About
---
The Flickcast brings you the best geek stuff.
The Flickcast Team
Chris Ullrich, Podcast Co-Host, Editor-in-Chief, Publisher, Co-Founder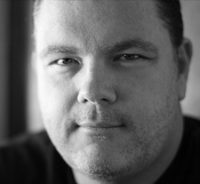 Chris began his professional career while still in college and worked in the entertainment industry as a writer, production manager and producer. During that time, he also became a member of the Director's Guild of America and gained extensive experience producing feature films, television, music videos, commercials and other content.
In the last ten years (or so), Chris has spent a lot of his time writing. He also co-hosts The Flickcast podcast.
He's also very fond of bios written in the third person, which make him sound way more important than he actually is. For more about Chris, check out his personal website, find him on Twitter and Instagram.
Joseph Dilworth, Jr., Podcast Co-Host, Editor
Joseph Dilworth Jr. has been writing since he could hold a pencil (back then it was one of those big, fat red pencils, the Faber-Castell GOLIATH. Remember those? Now that was a pencil!).
He is a husband, father, writer, producer, podcaster and home brewer, all of which he will reference from time to time on the podcast or in his articles. He resides in the Pacific Northwest and wants you all to know that no matter where you go, there you are.
For more, check out Joe on Twitter. Go ahead, he won't mind.
John Carle, Contributing Editor
The Definition of "Geek Chic." Comic books, sci-fi movies, Buffy: The Vampire Slayer, Xbox 360, Nintendo DS, Lord of the Rings and more all rolled up in a Diesel wearing, club going socialite package. Having worked in both advertising and television, John is a lifetime writer always being a part of the creative process. John knows the television world between his experience on being involved with the production process of over two hundred episodes of prime time tv and being a self admitted media whore.
Yes he has a weakness for trash tv, Michael Bay-esque action movies and the raunchy teen comedy as well. Never try to debate the Original Star Wars Trilogy versus Star Trek with him because the Holy Trilogy always comes out on top. Having partied with movie stars to Playboy centerfolds, John is somehow always able to find someone's inner geek.
The simplest rules that John lives by is to have fun and doing what makes him happy. There's no shame in being a geek. Play Halo, read Spider-Man and proudly display the whole series of Neon Genesis: Evangelion on your DVD rack. And most importantly, make sure to read his weekly comic book pull list reviews at The Flickcast. For more about John, follow him on Twitter here. You can also game with John on XBox Live under gamertag: Jay Dash and on the PlayStation Network as JayDash1.
For as long as he can remember, he's loved stories. From an early age he would spend hours reading, watching TV, writing, drawing and creating. Labeled a "genius" as a young man, Joe took it to heart and found very little use for school and academic pursuits. Instead, he concentrated on advancing himself in all areas of entertainment knowledge and creative endeavors.
Now, Joe joins the rest of The Flickcast team covering all the things he's always loved: movies, tv, comics, games and all things geek. He truly is in his element and loves ever minute of it. For more from Joe, follow him on Twitter here.
Past Contributors
Nat AlmirallNat's a freelance editor, writer, and reviewer formerly employed for a small national and international publishing company where he worked on a wide range magazines covering everything from private planes to wine and food to post-50 Christian living.
A history and English double major (and one class away from another major in art), Nat's academic pursuits were carefully chosen to make him utterly unappealing to potential employers. As a result, he spends the majority of his time watching and writing about movies, television, and books (well, he generally reads those, but has, on occasion, been known to watch them as well).
In addition to writing for The Flickcast, he's also a contributor to the pop-culture site Frothygirlz in addition to sporadically maintaining the grammar blog Grammdæmonium. You can also check out his Twitter feed.
I wake up every day excited to do what I do and to discover what's coming next. That was precisely my goal 15 years ago, when I left boring office jobs behind forever and decided to forge my own path as a freelance web developer, graphic artist and well-rounded tech-obsessed geek.
Things were simple back then, but nowadays creating sites is really just an adjunct to everything else that really matters in our highly-connected world: social networking, mobile apps and the mobile web, streaming media, dynamic web apps, and creating compelling and engaging content as just a few examples. I try to adopt early and often when it comes to tech, yet there's always something new to learn and explore.
Aside from work, I enjoy movies, new music, video games, comics, gadgets, I build and fly remote controlled gliders and motorized aircraft and I even manage to get outside from time-to-time. I'm an avid mountain biker, hiker, snowboarder and I've been spending my summers trying to learn how to surf. (It's harder than it looks, trust me). And finally, I often have nightmares in which I die before the next really cool tech toy launches. It's horrifying, I know. I'm thinking of adopting more of a low-risk lifestyle to avoid that happening anytime in the near future.
You can find some of my thoughts on technology and the Internet at my personal blog, or feel free to follow me on Twitter.
The number of hats Sal wears (husband, father, business owner, writer and more) is only outnumbered by his addictions: comics, movies, television, gaming and so on; so much so that he's generally way behind on the latest pop culture offerings and constantly scrambling to catch up. After a few years of writing for outlets like WizardUniverse.com, Wizard Magazine and MTV's Splashpage, Sal took a break to concentrate on his dream job: co-owning and ever-tweaking Mighty Comics; his very own "local comic shop."
But that itch to spew his opinions never went away (shocking), and after 4 years he made his return to The Flickcast where he plans to continue writing about all the wonderful goodies he's missed out on. His motto? "I can't be the only one, right guys? Guys?! …hello?"
…he's still waiting. Actively searching for a fez he's convinced his daughter will steal, he also manages to find time for basketball (an avid hoophead) and occasionally coaches as well. Getting some sun is overrated, apparently. In the meantime, you can get your fill of him here on The Flickcast and he can also be found on Twitter at @salloria.
When Eric was a meager freshman in high school, he was jumped by a group of upperclassman, strapped to a chair Clockwork Orange style, and forced to watch Fight Club on repeat. It was then he decided to go to film school.
Several years later he found himself outside a dingy Santa Monica bar, giving a drunken Michael Bay rant to a group of nervous onlookers.
These onlookers turned about to be The Flickcast, who immediately begged him to start writing for them. On a serious note, Eric enjoys the Ninja Turtles, a delicious Father's Office burger, and conspiracy documentaries.
For as long as he can remember Jonathan has been a citizen of two worlds. As a jock playing football in Texas, he fell in love with sports and the communal thrill of rooting for a team with thousands of like minded fans. As a geek being in love with movies and comics since he can remember, he was always lost in the imagination of far off worlds and exciting adventures. Despite what you might think this didn't create a conflicted mind, it instead made for a well rounded, generally awesome person.
Jonathan has a love for film music which served as the inspiration for starting the Film Score Friday review series, allowing this niche film geek passion a chance to shine on a weekly basis. He was also a professional video game player for a popular website, giving him the expertise to co-host the second podcast in the Flickcast family, The Bitcast. Bringing his Playstation, and Sean Bean, love to the masses.
Beyond contributing to The Flickcast, Jonathan has also been developing his online personae 'The WallE' with a personal website and a Twitch.TV live streaming channel where he plays video games live. You can follow him on his twitter or on any of his other sites.
Cortney has been a nerd for as long as she can remember. From animated films to tabletop games, she's into it all, and was constantly searching for the latest and greatest geeky news. This lead her to the The Flickcast and made her want to write news of her own.
While her posts here at The Flickcast tend to lean more towards videogames, Cortney's into everything. You name a TV show or book, she's probably watched it, or is reading it right now.
Cortney graduated from Binghamton University with a degree in Film Studies, and now works as a social media marketing strategist in NYC. In her spare time, Cortney knits, plays tabletop games, and watches Doctor Who. You can check out her blog here and her personal Twitter handle, @CortneyZamm.
—-
Matt Raub, Co-Founder Emeritus
When Matt says he grew up in a comic box, he doesn't mean figuratively. He was just a baby when his parents opened up a large chain of comic stores across the East Coast. This lead Matt to play the role of "resident comic guy" in just about every social circle growing up, which inevitably transitioned him into science fiction and fantasy in TV and movies.
Since then, Matt has made film and television his passion, which even brought him to compete in 2008's Netflix Movie Watching World Championship, where 8 contestants competed in a glass box in the center of Times Square to see who could sit through the most movies-in a row-without falling asleep or being distracted. Matt tapped out just shy of 24 hours.
Even today, Matt makes it a goal to be apart of film in whatever capacity possible, from editing, to writing, to production assistant, even to going back to his high school to teach other kids about the magic of movies. Matt, still a young man, has already tackled such jobs as radio personality, writer, critic, video editor, and believe it or not, professional wrestler.
One day, he hopes to add "kick ass podcast host" to his list of accomplishments as well. For more about Matt, check out his personal website here. Or follow him on Twitter here.
—-
Send us stuff to review (or just because you want to) here:
The Flickcast
c/o Chris Ullrich
16238 Ranch Road 620 N Suite F318
Austin, TX 78717
Wanna write for us? We can't promise you more wealth than you can possibly imagine, but it's still a pretty fun job. Drop us an email here:
info [at] the flickcast dot com
Click here to see our privacy policy.
(c) 2009 – 2019 by The Flickcast