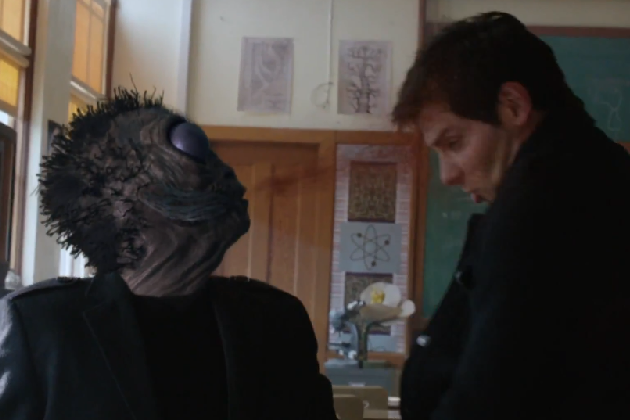 A new Wesen is introduced in this episode, a man who picks up woman at grief support groups. He gets invited back to their home, and spews a Great Muta (or Tajiri for younger readers) like red mist into their face. This blinds the women, and he then turns into a fly and drinks their tears.
The first woman dies after pulling a giant bookcase down on herself. The second victim survives, as her sister came home while the attack was taking place. The Medical Examiner finds that the victim's eyes are infected with a type of worm that is normally found in River Blindness in Africa.
Nick, Hank, and Monroe are able to determine that the suspect is a Jinnamuru Xuntee (before I looked it up, I had spelled it Ginimurushuntae), a tear stealing evil spirit. When beheaded, its brain is found to be swollen and infested with red worms. It will also revisit victim's families, to feed off of their tears.
Based on his M.O. of grief support groups, they are able to track Andre's (the Jinnamuru Xuntee) car to a high school. He is leaving the meeting with a woman when Hank, Nick, and Sgt. Wu chase him back inside. They split up, and Nick finds Andre in a classroom upstairs. Andre spits the red mist into Nick's face and jumps out the window.
Continue Reading →