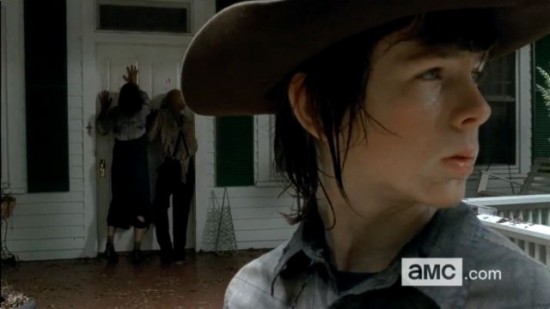 One (and maybe the only) complaint I hear a lot about The Walking Dead is that it's too boring and nothing ever happens. For the most part, I disagree with those assessments. Not this time though. This was a whole hour of nothing.
I was very tempted to just write a two or three sentence recap and just leave it at that, but I doubt that would drive readership. I'll throw it in at the end for fun. The episode starts by showing the aftermath of the war between The Governor's team and Rick's. Basically only zombies remain, and the jail is on fire.
Michonne emerges from the woods and kills some zombies, before she turns two into slaves, much the same as she had when we first met her. She also finds Herschel's decapitated head, which has turned. She stabs it, and is visibly upset.
She finds some footprints in the mud, but does not follow them. She chooses to go back into the woods. A flashback (as I thought, though it turned out to be a dream) is shown of Michonne in happier times. She is a sophisticated, wine drinking, museum going woman. She has a lover and a son. Slowly her dream changes, and her lover becomes a zombie, and her son disappears. Michonne awakes suddenly in the car she had fallen asleep in.
Back on the move, Michonne has integrated herself in a group of walker, using her zombie slaves as camouflage. She keeps looking at one (maybe a few) of the walkers as though she may know them. Michonne snaps and kills the walker she may have known, and ends up killing every walker around her, including her slaves. She goes back to the main road, and decides to now follow the footprints she ignored the first time.