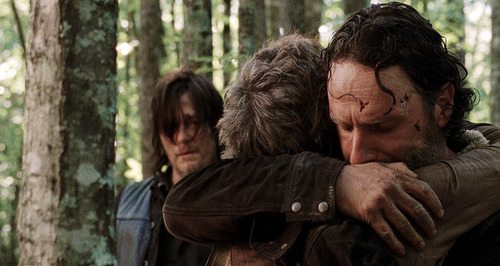 Rick and the others are fashioning weapons out of their clothes and small personal belongings. They plan to ambush whoever comes in to get them. But the Terminans (not my term, that's what the episode description called them) outsmart them by dropping a flash grenade from the top of the container.
Rick awakens in a giant room alongside Bob, Daryl, Glenn, and four unknown men. It quickly becomes clear that the Terminans are cannibals, and Rick and the others are about to become dinner. The four "nobodies" are quickly disposed of via a baseball bat to the back of the head and a quick throat slit.
Glenn is almost killed twice, but a surprise attack on Terminus halts the plans. The leader goes outside to see what is going on, and leaves the muscle men with Rick and the others.
Those that have not been taken to the meat market are still working on weapons and getting antsy. Maggie and Carl assure everyone that Rick and the others will be back, and they need to be ready. Sasha wants to know what cure Eugene has. Eugene explains that he used to work for the Human Genome Project, and he may have a way to turn deadly viruses into a cure.
Meanwhile, Carol and Tyreese (and Judith) are still on the hunt for Terminus. Carol tells Tyreese that once they find Terminus, she won't be staying. In trying to avoid a pack of zombies, Carol and Tyreese stumble across a man working the perimeter of the settlement. They tie him up, and Carol goes to check out Terminus.