Posts Tagged 'Dreamworks'
---
This looks pretty fun. Look for the movie to arrive on June 21. Meantime, enjoy the trailer below.
---
If you get the clumsy baseball references in the title than you get that this weekend was won by 42. The Jackie Robinson biopic earned an estimated $27+ Million, giving the film one of the strongest baseball movie debuts of all time. The film took advantage of perfect timing and well delivered advertising to get out of the gate strong. Despite the impending the parade of competition, the new baseball season should continue to allow the film to stay relevant for a few more weeks than it really should.
Bombing into second place is Scary Movie 5 which managed to pull in $15 Million, and providing tangible proof that no one cares about the spoof franchise any more. If any one is a victor in this instance it would be the Wayne's Brothers. They conjured up the franchise with the first brilliant film, but eventually parted ways by the third film. The brothers Waynes got back into the horror spoof game earlier this year with A Haunted House, which shines an even larger light on Scary Movie 5's failure.
Sticking in third place is the newest hit from Dreamworks, The Croods. Easing a very light 36%, the film brought in another $13 Million giving the film a total haul of nearly $150 million, which is huge for a new animated IP from a studio with a mixed track record. There still remains scant children entertainment competition in the upcoming Box Office calender, so the film should still perform well in the coming weeks.
Continue Reading →
---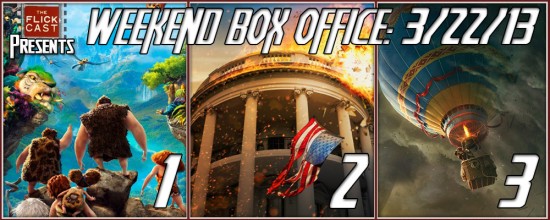 There used to be a rule in feature animation. PIXAR was the king of quality and they had a perfect record, Dreamworks had Shrek and a whole train load of Disney and PIXAR knockoffs with star-studded casts. Most of the times those films were turds, and provided a sharp contrast that might have aided in PIXAR's incredible win streak by providing such horrible comparison.
Well that was the past boys and girls, because the quality gap has been dwindling faster than The Croods just past 100 Million at the international box office. Dreamworks newest animated feature had a solid-to-great opening weekend bringing in over $44 Million. Which puts the film on par with other recent Dreamworks its How to Train Your Dragon and Megamind.
A big weekend was probably expected for The Croods, however, the weekend was not without its shocker. The action flick Olympus Has Fallen surpassed even the most generous of projections to bring in over $30 Million over the weekend. Which is a huge win for an action-centirc film in a year where so many have died horrible box office deaths.
Continue Reading →
---
It seems like everyone is playing Angry Birds these days, including some of the folks right here at The Flickcast. In truth, the Star Wars variation is our favorite. . . naturally.
But Angry Birds maker Rovio isn't resting on its laurels and is busy developing many more games for the exploding mobile gaming market. One of the next ones coming from them, in conjunction with Dreamworks Animation, is called The Croods.
We've got a new video explaining all the details for you today as well as this bit of info directly from Rovio:
Meet the world's first modern family: The Croods! These cavemen are breaking out of the Stone Age with the use of a new r-evolutionary tool: the IDEA! The Croods will Hunt & Gather their way through spectacular new landscapes as they tame fantastic and never-seen-before creatures. Help The Croods survive the wild…and each other!
Check out the video after the break.
Continue Reading →
---
During last night's Presidential debate (you watched it, right?) they included a special look at Steven Spielberg's upcoming film Lincoln. Fortunately, if you missed it, through the magic of the Internets we can bring it to you right here. Enjoy.
---
Can British actor Daniel-Day Lewis pull of a convincing Abraham Lincoln? Check out the first officially released image from the upcoming biopic Lincoln after the break and judge for yourself. We've included a previous snapshot of the actor (above) for comparison.
There's no question that Day-Lewis is one of the most versatile actors in Hollywood, but playing the iconic and beloved 16th President of the United States may prove to be his most scrutinized role to date. That being said, the new picture with Lewis in full costume and make-up is incredibly good. Even without the stovepipe hat, Day-Lewis looks very convincing. Let's hope he's just as good on screen as he is in a photo.
Lincoln follows the president in his final four months as the Union comes closer to victory in the Civil War and slavery is abolished. The Dreamworks/Disney film is directed by Steven Spielberg and is due out November 9.
Continue Reading →
---
Steven Spielberg is gearing up for his next major tent pole blockbuster. Summer 2014 is going to begin with a bearded bang with Robopocalypse, and it looks like Spielberg might have found his lead.
Deadline is reporting that secret meetings have been held and Spielberg has decided who he wants to star in his new film:
Chris Hemsworth will be working with Steven Spielberg. I've learned that, amid much secrecy (including assumed names), Spielberg met and now wants Hemsworth in his next helming effort Robopocalypse, the big technothriller which is sure to become the director's next big global popcorn film
Hemsworth is about as big as they come these days, and as Marvel's phase 2 chugs along his star power will only rise. Signing on to join Spielberg is exactly the kind of career move that can move a guy past flash in the pan and into full fledged stardom.
This is all rumor and speculation at this point, as no contract is currently signed. However, if Steven Spielberg taps you on the shoulder and says, 'Hey kid, wanna star in my next movie' you only have one logical response.
No word yet on if Hemsworth's character wields a mighty hammer, axe or any other bludgeoning melee weapon. For that info you must stay tuned to The Flickcast.
---
Every year there are certain cinematic trends. This can manifest in a couple different ways, one such way is the return to popularity of the Bow and Arrow this year. Another way this manifests is two movies with similar core concepts get released in close proximity.
Like Dante's Peak & Volcano or Armageddon & Deep Impact, these cousin films share a lot in common on paper. 2012 looks like it might have finally found it's pairing, Abraham Lincoln: Vampire Hunter & Lincoln.
Deadline is reporting that Steven Spielberg's Lincoln biopic has finally set a release date, just in time for the award season push:
The Abraham Lincoln movie starring Daniel Day-Lewis as Honest Abe will get an exclusive release November 9, 2012, and expand wide November 16, Disney just announced
A relatively ballsy spot to place this movie on the calendar. A Spielberg biopic about Abe Lincoln starring Daniel Day-Lewis could very well be a financial hit as well as a critical darling, but opening limited on the day Skyfall is released and wide the same day as Twilight: Breaking Dawn Pt. 2 seems to really limit its potential audience.
It is true that the winter season is loaded with high-profile films, but this seems like a bad move on the part of Dreamworks. Unless of course all they care about is Oscar posturing. In that case this is a potential smart move to let this movie's quality seem even greater by comparison of the big blockbusters it is up against.
In any event, we now know when Lincoln hits the screens in the states, and truthfully we here at The Flickcast are eager to see it.
---
With big name film festivals like Cannes and Sundance often dominating the news, people sometimes forget that there's a great film festival right here in the heart of the filmmaking community. That's right, the Los Angeles Film Festival is coming next month and today the fest announced the full lineup of films and shorts showing in competition and having their premieres at the fest.
Among the highlights are Woody Allen's To Rome With Love, which will open the fest, the world premiere of Alex Kurtzman's People Like Us, starring Chris Pine, Elizabeth Banks and Olivia Wilde, and Steven Soderbergh's Magic Mike, which will close the festival. For all the scoop on the fest, check out the full press releases after the break.
The Los Angeles Film Festival runs June 14-24 at downtown Los Angeles' LA Live complex.
Continue Reading →
---
It's rare that a truly original film comes through the system and actually make us take note. The upcoming animated film from Dreamworks, Rise of the Guardians (formerly Guardians of Childhood) is just that.
With an all-star cast an a premise we haven't liked this much since Nightmare Before Christmas, this flick could be our new favorite from Dreamworks. Here's the premise:

More than a collection of the well-known childhood legends, Rise of the Guardians tells the story of a group of heroes — each with extraordinary abilities. When an evil spirit known as Pitch lays down the gauntlet to take over the world, the immortal Guardians must join forces for the first time to protect the hopes, beliefs and imagination of children all over the world. This epic 3D adventure stars Chris Pine as Jack Frost, Alec Baldwin as North (Santa Claus), Hugh Jackman as Bunnymund (Easter Bunny), Isla Fisher as Tooth (Tooth Fairy) and Jude Law as Pitch (The Boogeyman).

With a scheduled release of November 21, 2012, you can expect this one to be the big hit of the 2012 holiday season (provided The Hobbit doesn't steal our hearts). Take a look at Santa looking bad ass after the jump.
Continue Reading →
---