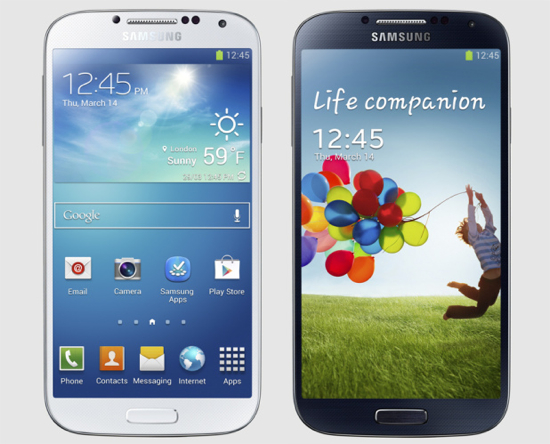 As expected, Samsung revealed a new flagship smartphone in its quest to beat Apple and dominate the world during a press event today. That device: the Galaxy S IV.
Based on earlier leaks and reports, the device's specs are pretty much known. However, that doesn't make them any less impressive. In fact, they're quite impressive indeed.
The Galaxy S IV sports a 5-inch Super AMOLED display with 1080p HD resolution, an Exynos 5 Octa eight-core processor in the international version and a quad-core Snapdragon chipset in the U.S. version, a 13-megapixel rear camera, up to 64GB of storage, 2GB of RAM, microSDXC support and Android 4.2 Jelly Bean.
It's not all specs, though, as the new device also features some cool stuff to try and further separate it from the pack. From facial recognition for touch-free controls and adaptive sound and display functions, to new social features and a completely overhauled camera, Samsung has really gone above and beyond to make this device stand out.
Samsung's full press release follows after the break. This really looks like a great device. Maybe it's time to consider and Android phone and give up the iPhone? Maybe.
Continue Reading →