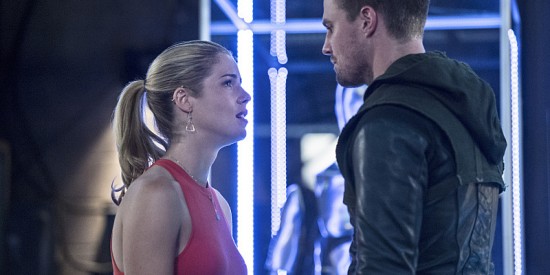 Finally, Arrow is back! After a second season that dragged a bit in the middle, but did a great job of picking up the pace at the end, season three begins at least 9 months after the events that concluded season two ended.
Detective Lance is now Captain, and has been pulled from active duty due to his heart condition. He has also publicly thanked The Arrow, and has decommissioned the anti-vigilante task force. Diggle and Lyla are having a baby, and she is due at any time. Roy has fully embraced his role in the team, and has managed to keep himself under control. Felicity and Oliver's "relationship" has at least grown to not so obvious flirting, and Oliver and Laurel are working together ("You catch 'em, I cook 'em" as she said).
Things are going so well, that Oliver has a lot more free time, and Felicity is helping him prepare a speech for the Board of Queen Consolidated to try and buy the company back. Felicity has picked up a job at a tech shop. Diggle even convinces Oliver to finally take Felicity out on a date.
Continue Reading →