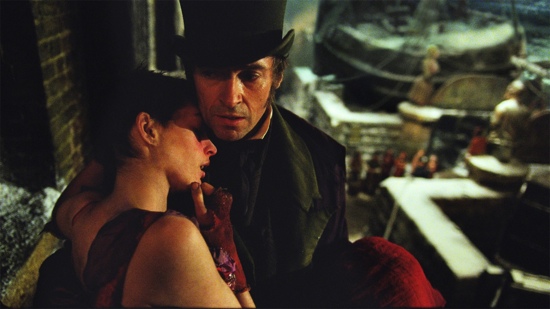 I've read a lot of novels, and I've heard that Les Misérables is the best. I hadn't read it, and I didn't believe it. After seeing Les Misérables, I'm starting to.
The film is based on the musical, but its chief accomplishment is adapting the depth and breadth of an immense work. Like the best of Dickens', Tolstoy's, and Dostoevsky's plots, Victor Hugo's were thought experiments, taking an archaic or cancerous institution and following it through to the logical and often tragic conclusion. Jean Valean steals a loaf of bread and is imprisoned for 19 years.
Upon release, he must carry the past with him in his release papers, so that no man will give him work. Destitute, his last resort is to rob a church of its silver, and only through the uncommon kindness of its priest is he granted a new life. But it is threatened. Valjean has torn up his papers and in doing so risks life imprisonment — a man's life extinguished for a mere legal technicality. Years later he becomes a successful businessman, where the unfortunate Fantine is employed, but by chance he is reintroduced to Inspector Javert, the man who oversaw his imprisonment and now dedicates his life to hunting Valjean.
Continue Reading →