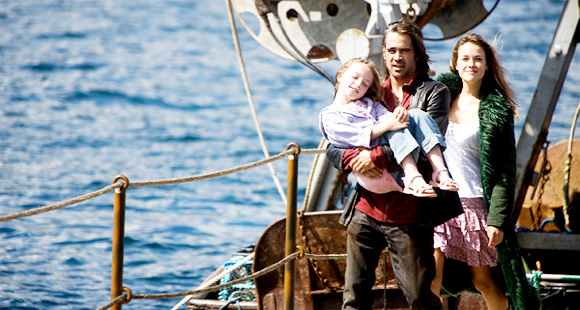 As a kid, nothing was better on a very hot and humid summer day in Florida then to swim in our gigantic pool. Since it was Florida, there were many, many hot summer days and laps tend to get boring. Right around the time of The Little Mermaid, my friends and I would jump into the pool, pretend we had rainbow colored fishtails, and have wild adventures under the sea.
As time passed and we lived longer on land, the days of mermaids, sunken ships full of treasure, and underwater kingdoms faded. It was not until viewing the film, Ondine, did I recall these days with a glimmer of marvel and remembered magic.
Ondine is about a fisherman who catches a woman in his nets and starts to believe again that even in a world filled with gloom one can find rays of light in unpredictable places. Like NBC's show Heroes, this story takes place in the real world and is surprisingly shot in the same location as the film portrays. It doesn't need crappy CGI or wizard wands bought at Ollivander's to perpetuate a feeling in the extraordinary, but rather the viewer's imagination and long forgotten adventures in the swimming pool.
The film combines several different fables of water creatures to form its own slowly discovered mythology. Colin Farrell plays Syracuse, a fisherman down on his luck and struggling to become a better man in a close knit community that refuses to forget his drunken ways. Colin Farrell is the perfect match for this part, as I'm sure he can relate to at least the latter part of his character's life.
Continue Reading →