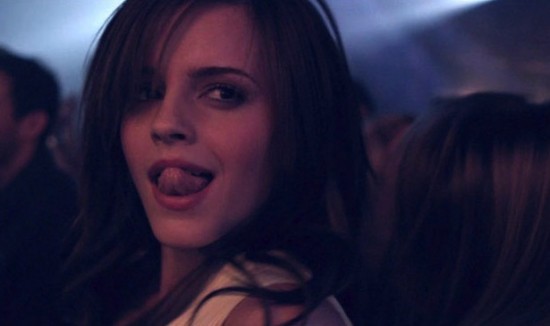 In 2011 a crack burglary ring was sentenced to prison by a Los Angeles court for a series of crimes they most certainly committed. This group of mostly girls had burglarized the homes of nearly a dozen high-profile celebrities, making off with nearly $3 million in clothes and jewelry. Today, a film based on their exploits is being shown in theatres. If you can find it, if there's little else playing or you're tired of hearing about Man of Steel, maybe you can see The Bling Ring.
I write that because I'm still not sure what Sofia Coppola's new movie is about — it opens with Nicki (Emma Watson) giving one of those humanitarian speeches that clearly wasn't proof-read by an attorney and has about as much basis in thought as — Ooo! A penny! And then follows Marc (Israel Broussard), the awkward new kid at the remidial school. He's mocked and picked on, partly because he's the new kid, partly because he harbors some cross-dressing tendencies.
Fortunately one of his classmates, Rebecca (Katie Chang) befriends him and, during a casual drive, asks which if any of friends are out of town. He mentions one. She suggests they break into the house. And they do. And they steal some cash, clothes, and jewelry. They meet up with some other friends afterwards and brag about robbing the poor saps.
Continue Reading →