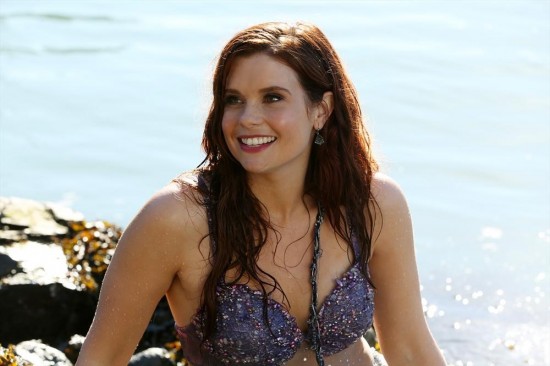 I have to tell you Oncers, I'm starting to worry about our magical show. We spend yet another episode in Neverland and seem to get very little accomplished once again toward the goal of rescuing Henry (who doesn't even appear in "Ariel" though that might be an improvement really). We do however get confirmation yet again that Regina is the best character (and actress) on Once and that Rumple hasn't completely lost his ability to put together a deal or a plan. Oh and of course, there's Ariel, whose flashback story is really somewhat pointless until the plot at then end calls for her.
So we start in the old Enchanted Forest where Snow White is running away from Regina's guards.  She skids to a halt at a cliff overlooking the ocean but then takes a daring leap into the waters where she is recued by a red-headed mermaid, Ariel.
In Neverland, Regina is pushing Emma to concentrate to use her magic. Ms. Savior doesn't want to use her anger as a trigger, which makes sense since she was about to use love every other time but she apparently doesn't remember that. See, Rumple, this is why they need you. The Queen is disgusted with Emma's reluctance, saying, "You're such a pathetic waste of ability." This fires up Emma's temper and the campfire she was trying to magic.
Regina is pleased while Emma's parents are trying not to be too mortified. They get a nice bit of distraction from Hook who, in a show of surprising honesty, tells them about Neal. While the men agree that not telling Emma until they're sure about Neal's alive or dead state, Snow feels uncomfortable lying to her daughter. Personally, I think she should embrace this opportunity to make up for missed chances to lie to her kid about things like Santa Claus and the Easter Bunny.
Continue Reading →