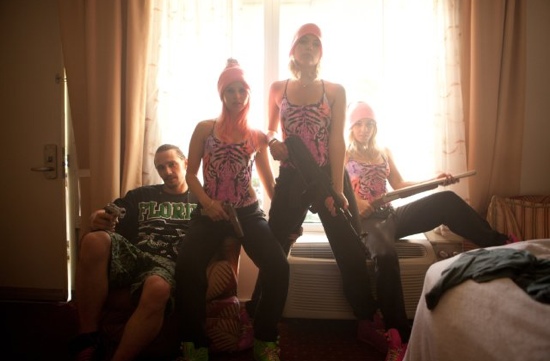 Lest we forget, Spring Breakers writer/director Harmony Korine is the guy who got his start writing Larry Clark's Kids, a film whose characters drank, did drugs, had sex, beat up strangers — all very adult things — and was slapped with an NC-17 rating and a heap of controversy because its characters were all, well, kids. Eighteen years later, the kids aren't much older, they engage in the same activities, and yet it's a comedy.
Apparently Korine decided to write and direct a movie about Spring Break because he missed out on it in his youth. So why the sudden change of opinion? Is it because Spring Break is just that — a break from real life where we can expect, if not forgive, hedonistic expression and temporary neglect of duties and responsibilities?
For the kids in Kids, every day of their lives was Spring Break, and if it's the only thing you have in your life, its consequences are going to be catching up very soon. However wild the girls may go in Cancun, there's at least some grudging respect for responsibility. Or maybe Korine is aging in reverse?
At 18, when he wrote Kids, he was just coming out of his teens, and being that close to the source, he ws tired of it, ready to take it down. Now he looks back on it with a sense of nostalgia, trying to relive all those moments he missed out on, perhaps.
Whatever the reason, Spring Breakers is just a lot of fun.
Continue Reading →