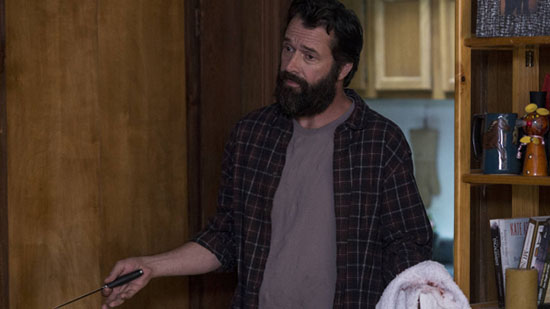 In this week's episode of The Following, Joe is living in Arkansas under an assumed identity.  The only ones who know who he really is are his girlfriend Judy and her daughter Mandy.  Joe's new name is Daryl, and everyone thinks he is Judy's brother, which is kind of mind boggling considering she is a prostitute and he just sits outside on a bench while she conducts her business.
Judy questions him about the cult subway murders, but he claims to know nothing about it.  She tells him that they have a good thing going and she doesn't want it ruined.  They hug, and Joe has a certain "I'm a lying jackhole" look on his face.
Hardy is using his shamelessly promoted tablet and major name search engine to look up Lily Gray, the survivor of the subway attacks.  He finds that she is an art dealer and goes to see her.  He asks her a bunch of questions that the FBI already asked her, and she admits to him that she looked him up online.  I'm surprised they aren't already in bed together.
So what I totally missed last week was that the girl the twins killed was not a totally random aside.  They had posed her dead body on a bench for the cops to find.  That went way over my head.  This week, Weston and Mendez determine that she was posed to reflect a certain passage in Joe Carroll's book Gothic Sea.
Continue Reading →