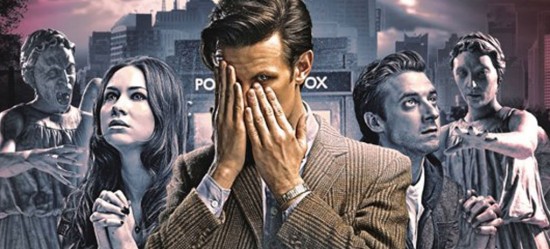 The recent five episode run to kick off the seventh season of Doctor Who ended with the bittersweet send off of the Ponds. The second longest running companions for the Doctor in the new run, and the thus far only traveling mates of the Eleventh Doctor, the Ponds were fan favorites whose presence on the show will be missed.
That last paragraph contained no spoilers, as it was well publicized that they would be ending their run in the 5th episode of this current season. Going forward there will be spoilers for that episode, so if you somehow missed how the Ponds met their ends you might want to bookmark this story and come back once you watched the episode.
Some how the great Steven Moffat managed to essentially kill these two beloved characters while at the same time giving them the happiest ending possible. Even though they were trapped in the past during a time the Doctor is unable to ever visit (which were sure will be retconned sooner rather than later), they were both given full, seemingly normal lives to live together for decades and decades. The love story of Amy and Rory Williams, which has seen their love forged over thousands of years, over several deaths and over a parallel lifetime finally settles long enough to let them live out the rest of their days in loving peace.
That is where the show left us, a sucker punch to the gut that had the sweetest of aftertastes. However, the Doctor Who writing crew is not one to leave well enough alone, and that has been proven once again in this newly released story board animation of an unfilmed coda scene to that episode.
Check it out after the jump.
Continue Reading →