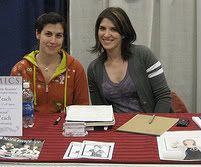 The Alternative Press Expo is a small convention that is geared to, as you can guess, the alternative facets of what the comics industry has to offer. What's more than that is APE is as laid back a comic convention as you will find. Small shows will do that simply because smaller size means more attention, and the increased ability to interact with others in the comics community.
That's whether it's fans amongst professionals, professionals among their peers, or otherwise. So inevitably, this means discovering new creators and new comics in a way that's different from other cons.
I first met Stephanie Lantry and Carrie Smith a few years back thanks to the online community that is the now defunct Brian K. Vaughan message board, the Cabal. As Conjoined Comics, the quick-witted indie-creators have collaborated to self-publish their own comic, To the Power Against, mini-comic Emogician (which the description should be pretty self-explanatory), and their newest book The Yeti, in a format that is quite unlike the first two. Recently at APE, I got a chance to chat with these two creators.
Joey Pangilinan: How did you two first meet, and come to start collaborate with each other?
Carrie Smith: We had a venn diagram of friends that met in the middle mostly through Star Wars.
Continue Reading →