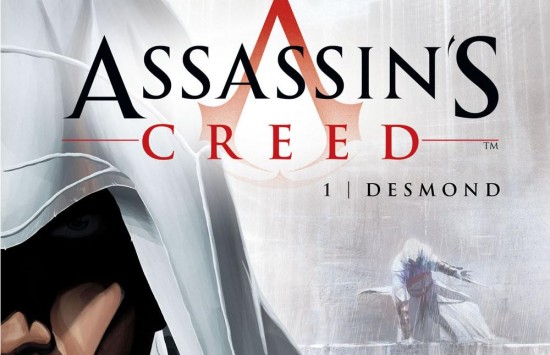 On Friday, The Flickcast announced a Twitter giveaway for a complete set of the Assassin's Creed graphic novel trilogy. You still have time to enter before Friday the 21st. But we wanted to make sure to give a review on this trilogy before we gave them away of course.
Released as a trilogy, the three Assassin's Creed graphic novels have come out simultaneously from Titan Books, most recently having worked on comics properties such as the Tank Girl collections as well as the WWE Heroes series. Partnered with Ubisoft, the team at Titan put together a three part story focusing on three characters in the Assassin's Creed lore: Desmond, Aquilus and Accipiter.
Over the course of the trilogy, there are two distinct storylines happening. The first focuses on Desmond's early time entering into the assassin's. Pieces of what happened behind the scenes at Abstergo including many interactions with Lucy and the heads of the Templars that players of the game may not have been aware of are explored. Also in the modern day, Subject 16, the previous experiment in the Animus at Abstergo is explored more. Players will recognize him from the role he played inside the Animus during Assassin's Creed: Revelations. Finally, a new assassin is introduced, named Jonathan Hawk who is one of the ancestors of Accipiter.
Continue Reading →