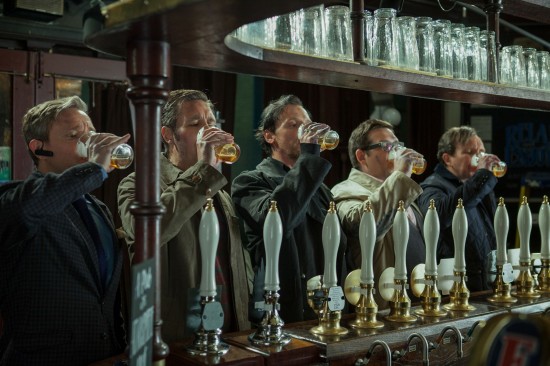 Who else but Edgar Wright can draw so much pathos and emotion from almost nothing at all? "Nothing" in the sense that when his best films Shaun of the Dead, Hot Fuzz, and now, The World's End jerk you into seriousness, you're surprised by how you care about the characters – before then it's been joke after joke, and somewhere along the way, or perhaps all during it, they're endearing themselves. Since he's been able to do it twice before, it's not a fluke; it's a skill, and a damn good one.
I'm still not entirely sure how he does it, but I do know that he doesn't pause every other moment for some dubious self-reflection, and he makes a lot of character-based jokes – that is, jokes that are funny within the context of the character telling them. He also drops clues here and there so that when the tonal shift comes, it's a payoff instead of a distraction – more importantly, it means something.
Vague enough? Well, whatever it is that Edgar Wright's able to do and do well, The World's End is the best display of that yet – in addition to being a very funny movie.
The story proper follows Gary King (Simon Pegg), a man inches away from full-on dereliction who opens with a story of the greatest night of his life. We see VHS-style grainy flashbacks to the early '90s when Gary and his crew attempted the Newton Haven Golden Mile – a 12-pub crawl that no man survived, or at least conquered. Gary gave up after the ninth and went to watch the sunrise. As he glows in nostalgia, the camera zooms out to show the people Gary's telling his story to, and it's a very big laugh.
Continue Reading →