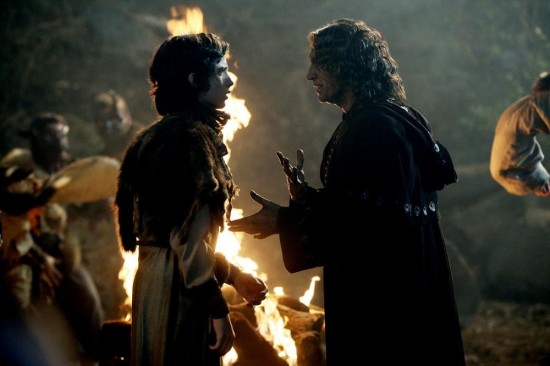 Oh Oncers, we're back again for some Neverland adventures and general stupidity by all adults present.
We start with the recently captured Bae being led through the forest by Felix. "You were a Lost Boy," Felix says. Bae isn't interested in reminiscing so Felix continues. "You may have grown up Baelfire but it appears you have grown up stupid." Seriously, right? Bae proves us all wrong (for once) by slipping out of his hand ties and knocking out Felix.
Flashback to Papa Dark One and baby Bae who is definitely looking like teenage Bae. Daddy gives his son a nice little knife but Bae doesn't want anything that his dad took from someone else as payment. He wants to leave their little house and play with some friends. Rumple counters that he could build them a castle but Bae doesn't want that either. At a loss, Rumple says he's just concerned that his enemies will hurt Bae if the boy leaves.
"I don't know what I'd do if I ever lost you," he says. Go a little crazy and use your magic to weave an elaborate plan to get him back probably.
Continue Reading →