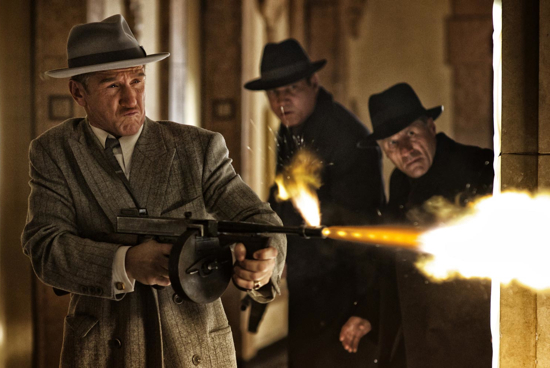 Gangster Squad! doesn't actually include an exclamation point in its title, but it should. It really, really should. When you open your film with a guy being gorily drawn and quartered and then savaged by wolves, you've earned some punctuation. And since the rest of the film is as messy as that poor sap's goify innards why not let that silly excess spill out onto the poster?
Yes, it is a mess, but a pretty fun one that gets more enjoyable with its bouts of seriousness than its more frequent inanities. But I'm getting ahead of myself. Josh Brolin is Sergeant John O'Mara, a good cop in post-WWII Los Angeles. Sean Penn is Mickey Cohen, the bloodthirsty Jewish gangster who controls the LA underworld. Ryan Gosling is Sergeant Jerry Wooters, who flings his Wooters at every dame in sight, and Nick Nolte is a dead ringer for Mark Wahlberg in 30 or so years.
Less importantly, he's the LAPD police chief who wants Cohen's empire brought down and recruits O'Mara to do it. O'Mara is a war vet with experience fighting in occupied territory. He has to work undercover and basically has the authority to kill indiscriminately, which I imagine is pretty useful in situations like this.
Continue Reading →