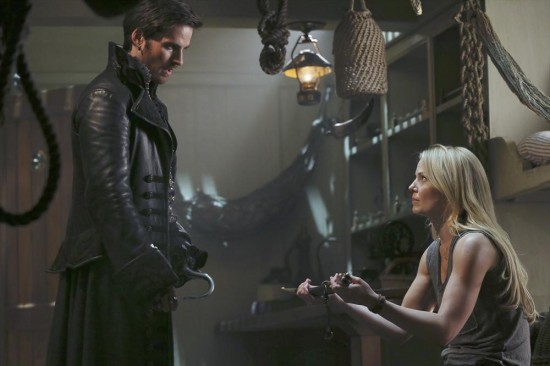 Hey Oncers, it's finally that time again. Let's get started.
We begin with a flashback to Henry's birth, which is emotional and painful (for viewers and for Emma). At least Jennifer Morrison has plenty of experience with this kind of thing. Emma doesn't even want to hold baby Henry but just wait 11 years Chosen One and you'll be falling through a magic portal on board a pirate ship to rescue your son from Peter Pan.
That's where we pick up in present day, with the Jolly Roger splashing into Neverland waters. Meanwhile the boy in question lands in the sand with Greg and Tamara in tow. Henry tells the annoying duo that both of his moms and all of his extended family are coming to find him. Greg and Tamara are unimpressed, which makes sense since this same top notch family were unable to prevent them from easily taking the kid in the first place.
They try to phone the home office but their communicator is chock full of sand. Henry switches tactics and plants seeds of doubt regarding this mysterious "home office." Greg doesn't take the bait but Tamara isn't so sure. Her suspicions are confirmed when they run into the Lost Boys, who apparently are the home office.
Continue Reading →