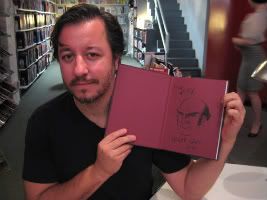 Before getting a chance to sit down and talk with Dean Haspiel (American Splendor, The Quitter, Billy Dogma) at the Alternative Press Expo, I met him at the Isotope Comics Lounge on the eve of APE weekend for a pre-APE Isotope in-store bash. Currently, Haspiel is but one artist that is part of a larger collective of storytellers at ACT-I-VATE.
Recently, October saw the recent release of The ACT-I-VATE Primer by IDW Publishing, featuring new and original stories. While at the Isotope, I discovered Haspiel is as gracious and as nice as I could have imagined just sitting and talking with him as he signed and sketched a head shot of Harvey Pekar in my copy of The Quitter.
That night talking generally about the unique positivity that courses through the comic industry, Haspiel signs my Pekar sketch advising me to "never quit." It's good advice.
Needless to say, I was excited to sit down and talk with Haspiel again on Sunday as APE was coming to a close.
Joey Pangilinan: How did you come to start working with Harvey?

Dean Haspiel: Here's a long answer to a simple question. I grew up reading superhero comics. My dream was to become a penciler and draw for Marvel. I didn't know there were other comics that could be non-superhero or not published by DC and Marvel. I started to expand my horizons and got hungrier for the medium.
In the early '80s, I discovered American Splendor, at a place called Soho Zat in lower Manhattan, which had a lot of alternative and underground comics, and I discovered a whole bunch of different types of works.
So, there I am reading the Fantastic Four, and suddenly I come across semi-autobiographical comics and stuff like Yummy Fur by Chester Brown, and it just blew my mind. I started out being a fan, like most people are, of Harvey Pekar, or whoever else they admire.
Continue Reading →