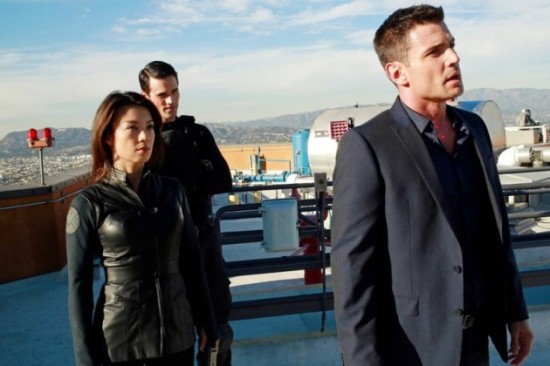 Shield captures an alien artifact dealer, Vanchat, thinking he may know where Centipede is holding Coulson, as the type of artifact he was trying to fence is the same used by Centipede. While Director Hand is debriefing the team, an alert comes up about a breach in the system. Skye is trying to find the money trail from Vanchat to Centipede.
Hand wants Skye thrown off the plane, and May agrees that Skye is of no value to them on the plane. Everyone watching (but not Ward and Skye) realize this is a ploy to get her off the plane so she can have free reign to investigate as she pleases.  Ward and Fitz/Simmons allow Skye to escape before her debriefing.
Skye still has her scrambler bracelet on, so she is still unable to access any type of internet connection. She reads an article in a magazine about a local billionaire (Lloyd Rathman) who is under investigation and decides she can get him to help her. It made very little sense watching, and makes maybe even less sense now.
She manages to hang out at his office building until he arrives, and steals his car without any of the valets noticing. However, she has the bracelet, so she still can't even use the GPS in his card. A well-placed advertisement for Onstar gives her the idea to crash the car and tell the Onstar representative to tow the car to "her house."
Continue Reading →