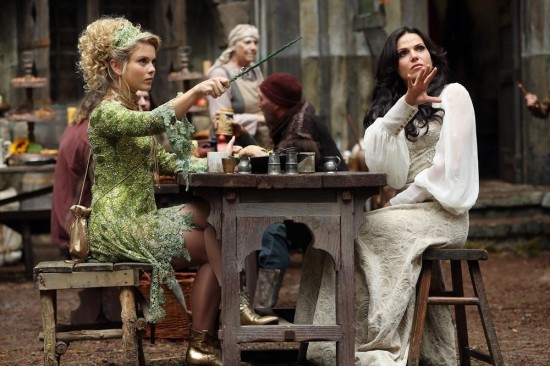 A big new character debuts tonight but will she be the cute, charming Tinker Bell that lights up the Disney castle or the snotty one who nearly got Wendy and Peter killed? Let's find out Oncers…
Our company once again traipses through the woods. Charming is struggling to keep up and Snow teases him, "David Nolan let himself go?" Just as they're getting close to the camp, as indicated by the map, it moves. As the bickering about what to do next starts up, Hook helpfully suggests they seek out a fairy he knew in Neverland. She might be able to help them find Henry/take care of Pan.
The leader of the Lost Boys is currently waking up Henry with the offering of an apple. Henry refuses the treat. "It's a family thing," he says. But Pan only wants him to use it for target practice. Henry is egged on to shoot a poisoned arrow at an apple on Felix's head. He wisely tries to shoot Pan instead, who deftly catches the arrow and looks rather pleased with Henry's decision.
Cut to the Dark Castle where Neal is frantically looking for something to use to make a portal to Neverland. He deduces that Henry must be the boy Pan was looking for all that time ago. The loud rummaging has summoned Robin Hood's men, including Little John. He shows up with Robin's son in tow and Neal suddenly has an idea.
Continue Reading →