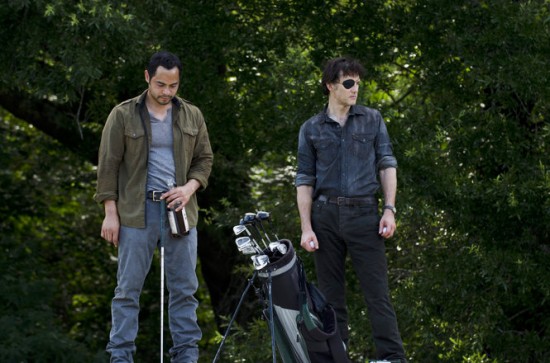 Martinez did in fact rescue The Governor and Megan from the walker pit. They agree to take in his group, under two conditions. Martinez is in charge, and no dead weight. Contribute or be cast out.
The Governor goes on a supply run with Martinez, Mitch, and Pete. They keep finding decapitated bodies with signs on them like LIAR, RAPIST, and MURDERER. They come upon a cabin, and The Governor goes in first.
They can hear some noise in one of the back rooms. It is there that they find not only some walkers, but also the heads on the decapitated zombies. After they have taken care of the zombies, Mitch passes around some beers he found. Mitch and Pete tell The Governor about their military backgrounds. Martinez tells The Governor that it's a good thing he had that girl and women with him. He doesn't say exactly why, but it's clear Martinez either would have killed him or left him in the pit.
Lilly sets up a nurse station in the camp, and Martinez cozies up to Lilly, Tara, and The Governor. Tara is also cozying up to a woman named Alicia. Martinez is a bit buzzed and has The Governor join him on top of a trailer to hit some golf balls.
Continue Reading →