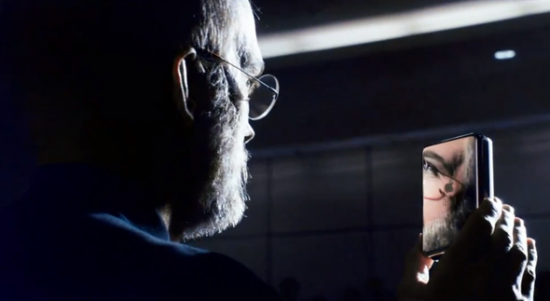 Why they didn't go with the title jObs is anyone's guess.
At the end of the film, we see a comparison between the actors and the people they played, none of whom are credited. And despite spending two hours with these fellows, there aren't many you could name. Cliched as it is to say, but that's a metaphor for the entire film — it's so concerned with covering all the major events in the history of Apple Computers and simply the looks of its founders and key people that it misses the mark giving the viewer a sense of what made founder Steve Jobs tick.
Granted, the movie opens with a fantastic scene of Steve Jobs (Ashton Kutcher) announcing the iPod. Kutcher's inflection, body language, and script are dead-on as he builds the audience's anticipation, teasing them with hints and pauses and mere suggestions — there's a mix of delight and arrogance that's electric. Even if you've never heard Jobs speak, the performance still conveys the feeling of being in the presence of a great man at the peak of his strengths
It's too bad the film likewise peaks in this scene. We flash back to Jobs' college years where we're told he's a renegade, a rebel, the guy who doesn't wear shoes and drops acid and casually mentions to a fling that he has a girlfriend He takes a hit in a field with his girlfriend (Amanda Crew)  and after copious amounts of dancing, he lies back, restless. His girlfriend queries, "You're thinking about your parents, aren't you?" a tear rolls down Steve's cheek, and the audience laughs.
Continue Reading →