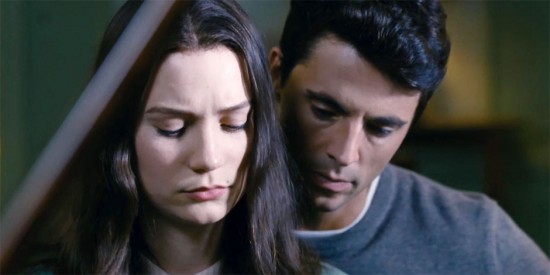 Stoker is a film at odds with itself. On paper, it's a slick piece of neo-gothic thrills, parading its Jane-Eyre/Mysteries of Udolpho (and more) influences, with red rooms, sinister-seeming relatives, fogged-out basements, and driblets of blood.
More plot-fully speaking, you have the mysterious death of a loved one, in this case the father Richard Stoker (Dermot Mulroney), who leaves his immense estate to his wife Evelyn (Nicole Kidman) and daughter India (Mia Wasikowska). Soon after, Richard's estranged brother Charlie (Matthew Goode) shows up, taking a break from one of his frequent trips around the world. Charlie tries to reconnect with his brother's family, seeming to seduce Evelyn but eliciting only hesitation and curious dread from India.
All three play their roles well, with Kidman wandering through her lines as in a daze, transfixed by the appearance of a younger, sleeker version of her husband. Mia is exactly the opposite, dissociated from everything and body. But the clear standout is Goode, who finally has found a role that utterly suits him — however specialized it may be. Kind and pleasant with a chilling, menacing undertone, you're just waiting for him to explode.
Continue Reading →