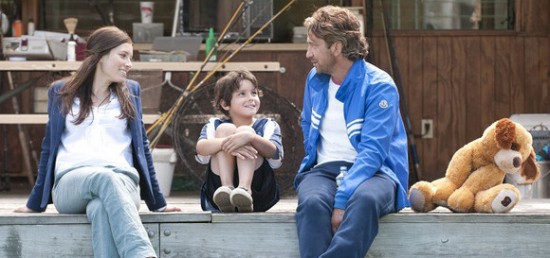 About halfway through Playing for Keeps, I noticed that I hadn't laughed yet but so far had found it pretty watchable. Having Uma Thurman parade around in her frillies certainly doesn't hurt, and added to that are the ever-delightful wiles of Judy Greer, Catherine Zeta-Jones, and Jessica Biel. The movie treats them as basically eye-candy (as well as Gerard Butler), so why can't I?
Butler plays George, a former soccer superstar recently relocated to Virginia to reclaim his wife Stacie (Biel) and, on the side, reconnect with his son. He spends his mornings filming demo tapes for a shot as an ESPN sportscaster; his afternoons watching his son's little-league soccer practices; and, later, his nights bedding the many soccer moms.
One day he decides to take over for the apathetic little-league coach, earning the respect of Stacie and the adoration of his son and the previously mentioned soccer moms. He also makes the acquaintance of Carl (Dennis Quaid), a successful businessman and husband of the lovestruck Patti (Thurman) who has an eerie and obnoxious habit of back-slapping like a yokel who's just told a joke. Anyway, Carl bribes George to put his son in the goalie spot and get his daughter to screech the national anthem before each game.
Continue Reading →