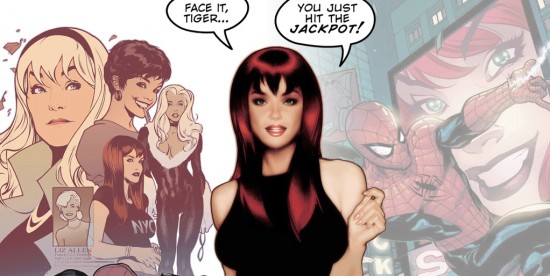 For almost every Spider-Man fan under the age of 30, Mary Jane Watson has been the primary yin to Peter Parker's yang. So it was a bold move by Sony and Marc Webb to go back to Spider-Man's first love, Gwen Stacy, for The Amazing Spider-Man. A move that properly introduced a character whose ultimate fate might be as important to the web-slinger as Uncle Ben's murder was.
With the Spider-Man reboot a general success, Sony wants to move quickly on a sequel. Variety is reporting that things might be getting sticky for Parker's new/old flame with casting rumors of a new prominent female character:
It looks like Mary Jane Watson is back in Peter Parker's life, as "The Descendants" star Shailene Woodley is in early talks to play the redheaded love interest in Sony's "The Amazing Spider-Man 2."… Character breakdowns have gone out to talent agencies, and Electro is rumored to be one of the villains the filmmakers are considering for the next installment of the hit comicbook franchise.
Shailene Woodley is a fine actress, and even though she probably looks a bit young to be Garfield's Mary Jane, she is one of the better choices for the role. If you are going to skew younger, at least you get the one ABC Family actress that has award nominations and discernible talent. It is sort of like finding another Anna Kendrick among the Twilight muck.
Also note that it looks like Electro might finally be getting his time to shine in the sequel, and it looks like Peter's best friend Harry Osbourne is also going to make an appearance in the sequel.
Check out a more spoiler heavy prognostication for what the Mary Jane rumors mean for Emma Stone's Gwen Stacy after the jump.
Continue Reading →