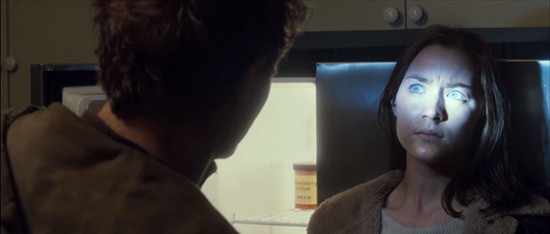 When I told my girlfriend I was off to review to the new Stephenie Meyers movie and that, having seen one of the Twilight movies, I had low expectations, she responded, "It could be worse. She could have teamed up with Nicholas Sparks." "Good point!" I said, and then, a half hour into the film, the two main characters kiss in the rain. Damn.
The Host opens with a voiceover by Donald Sutherland (or at least a very Donald-Sutherland-sounding narrator) stating that war, famine, poverty, and the like have been eradicated from earth. It has been taken over by an alien race of what I'd refer to as "Solar Centipedes" if the film hadn't bashed the symbol of glowworms into my noodle.
The glowworms apparently are implanted into humans through a delicate process that makes you wonder how they were able to do it seven billion times (and how was the first one implanted?) and the quickest way to tell them apart from the regular humans is that the glowies have blue rings around their eyes — chances are you've seen something like them before in a better film. I'm certain.
Their latest victim is Melanie Stryder (Saoirsa Ronan), a plucky teen who tried to avoid capture by leaping through a window. Fortunately, the glowworms have some magic healing spray to bring her back to life and implant one of their kind, known as "Wanderer" into her neck. But Melanie resists, and in one of the worst decisions of the film, is in constant voiceover arguments with Wanderer.
Continue Reading →