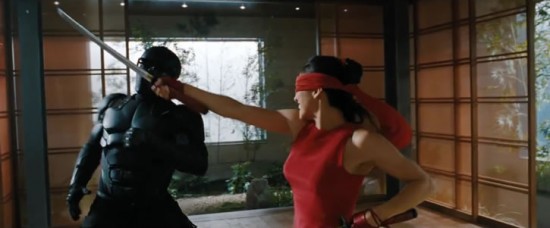 I had a soft spot for 2009's G.I. Joe: The Rise of Cobra, and I have a soft spot for this, even with its flaws. If you remember the end of the last film (and never mind if you didn't), Zartan is impersonating the President of the United States in one step of Cobra Commander's grand plan for world domination.
I think this is supposed to take place right after the last film, but no matter. All you need to know is that the President is not the real President, and the Joes are not aware of it. They're busy raiding a nuclear arms facility in Pakistan — a mission devised by Zartan (Arnold Vosloo/Jonathan Pryce) to wipe out the Joes when they call for transport after the mission.
All of them, save for Lady Jaye (Adrianne Palicki), Roadblock (The Rock), and Flint (D.J. Cotrona) are killed. Fortunately Snake Eyes (Ray Park) is away on another mission training with Jinx (Elodie Yung) and quite possibly the worst actor in the entire film, RZA as the aptly named Blind Master.
Continue Reading →