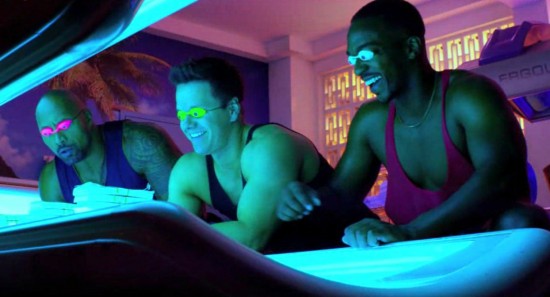 I'm not sure whether the appropriate genre for Pain & Gain is comedy or thriller, but I am sure that it's a story that the cosmos made specifically for Michael Bay. There's bulked-up dudes, strippers, midgets, stereotypical gay guys, Miami, explosions, slow-motion, and cocaine and the '90s. Mark Wahlberg is Daniel Lugo, a fitness instructor with the kind of intensity and single-mindedness that makes you feel like he's constantly comparing his body to everyone else — and addressing each one according to rank.
His boss is the slightly-schlubby John (Rob Corddry), owner of the Sun Gym in Miami. And his best friend is fellow gym-jockey Adrian (Anthony Mackey).
That the movie opens with Daniel getting chased by the cops is a revelation that we know things won't end well for Daniel, but the reasons take their time to unfold. We learn that Daniel's a self-proclaimed go-getter — obsessed with his image and the idea that through physical perfection the rest of the world will lie down before you.
His heroes are Rocky, Scarface, and Don Corleone, suggesting that his understanding of reality comes from the movies and even then, he's only read the Cliff Notes. He takes a seminar with Johnny Wu (Ken Jeong), one of those motivational speakers who similarly preaches that nothing in life is worth learning if it can't be written on a note card or reduced to a buzzword.
Continue Reading →