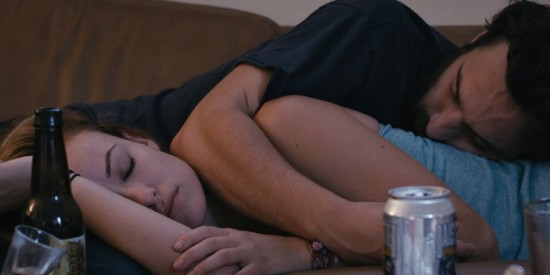 The poster declares the theme of the film to be "knowing when to say when," which is as good a summation as any, and has just the right amount of vagueness. In this case the "when" applies to, well, I'm not entirely sure — on the surface it's when to draw the line at casual flirting. Or when to break up with a partner who's coasting through the relationship. Or when to grow up — a theme that's driven far too many indie films.
That lack of understanding is probably my fault, but it may also be director Joe Swanberg's intent. This is the same guy who made Silver Bullets, a film that made me want to abort fully developed children, mainly because it meandered through the running time with no direction, no story, and a mass of sickly dialogue that wanted to sound fresh and spontaneous but came off as fully self-aware.
He tries a similar approach in Drinking Buddies, but it works infinitely better here. The actors improvise their dialogue, with an outline of the major plots points to guide them. I think that works best whenever the characters have an uncomfortable pause, but aside from that there is an easiness to their interactions. Granted, it should be simple for anyone to sell an attraction to Olivia Wilde.
Continue Reading →