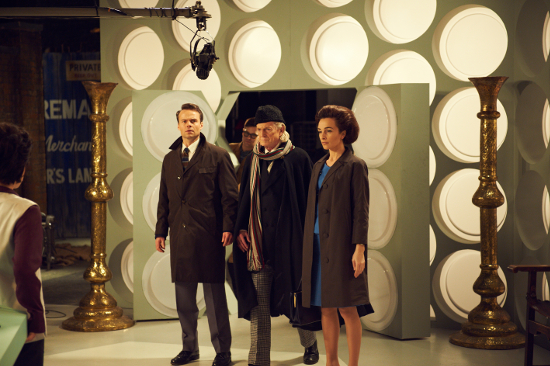 BBC America is running a marathon of Doctor Who episodes this week celebrating the 50th anniversary of the show culminating in the worldwide showing of Doctor Who: The Day of the Doctor on Saturday, November 23. But on Friday evening, the 22nd, they will show An Adventure in Space and Time, which is a dramatic recreation of how The Doctor and his Companions finally made it to the "telly" 50 years ago.
Space and Time was written by Mark Gatiss, directed by Terry McDonough and stars David Bradley as William Hartnell, the very first Doctor. It also features Jessica Raine as producer Verity Lambert and Sacha Dhawan as director Waris Hussein.
An Adventure in Space and Time gives a glimpse of why and how Doctor Who has become a fan favorite all over the world. The show is an amazing feat, a one of a kind experience, but it almost didn't happen. The first pilot never aired, they didn't think Hartnell was right for a children's show and that's just part of the story.
"The film does cover quite in detail how hard it was for our three main characters to get the film made originally," McDonough explains. "And also the problems they had on getting it broadcast. The first time the episode was made Sydney Newman [creator and Head of BBC Drama] insisted that they reshoot the whole thing. He just wasn't happy with the quality of it.
Continue Reading →