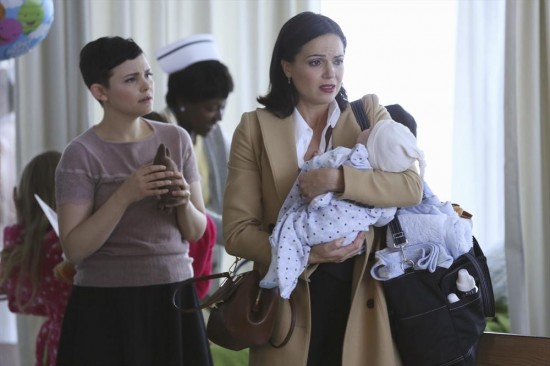 It's been two weeks since the last episode of Once Upon a Time but, just like this entire half season, it's felt much longer. Just in case you forgot, last time on Once, Henry stopped using his brain and gave Pan his heart. The little snot is now on the path to immortality and phenomenal cosmic power! (Itty bitty living space to come later.)
Oh and because the Once family tree wasn't weird enough, Pan is Rumple's crappy father and also trapped him in Pandora's Box. This week, Henry's heart-lessness is resolved rather speedily, Regina remembers her maternal roots and out mothers both Emma and Snow, and Pan proves his much more than a one trick pony.
We start with a flashback to the Enchanted Forest. The curse is billowing toward the castle and Regina poofs into the dungeon where Rumple's being held. She's come to gloat about having cast the curse, which really makes no sense because he egged her on to do it. He just wants to pour salt in the open wound that is Regina killing her father to cast the curse.
As always, the Queen is masking her pain with swagger, saying she feels invincible even in the face of Rumple's revelation about the Charmings' savoir baby. He gets in one last dig before she skips off to gloat over Snow. "There's a hole in your heart and someday you will come to me to fill it," he sneers. Credits.
Continue Reading →