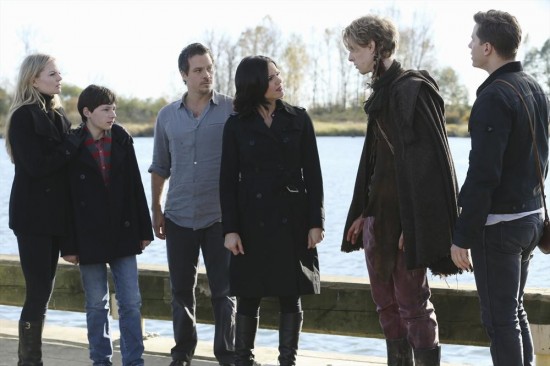 We are nearly at the end of this incredibly long (for us anyway) Neverland journey Oncers. Our heroes and some villains have returned to Storybrooke to reunite with all of the secondary character we know, love and miss. But of course, that wily Peter Pan keeps up his scheming even while trapped in Henry baby faced, yet suddenly much taller, body.
The episode opens on the quaint town of Storybrooke where nothing strange happens as long as everyone important is away. Belle takes Ariel to the docks where the mermaid instantly locks lips with hunky fisherman Eric. It feels appropriate to again point out that these two knew each for literally three minutes. But this is all just set up for the Jolly Roger to appear in the sky and swoop toward the dock. Credits.
The whole town has instantly gathered to applaud the arrival of the people they earlier said they didn't actually miss. While everyone else gets hugs and kisses, Regina stands all alone. Snow throws her a well-deserved bone by saying for all to hear that they made it back because of the Queen.
Flashback to Regina interrupting the Charming wedding from the Pilot episode. After the ceremony, Snow is angry as hell about her big day being disturbed. Charming says the real way to stick it to Regina is to enjoy their honeymoon as soon as possible and I think we all know what's really on his mind. The newlyweds share a genuinely cute scene together where Charming steals a kiss and I'm reminded that sometimes these two actually have on screen chemistry. Snow chooses the Summer Palace as their destination, later revealing privately to Grumpy that there's something there that can help them defeat Regina.
Continue Reading →