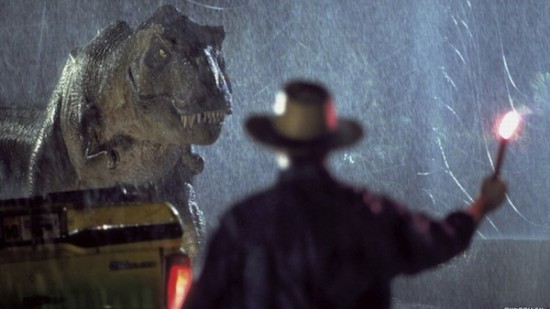 It's Jurassic Park.
I still have my toy T-Rex from 1993 — and it still roars! I know pretty much all of Jeff Goldblum's lines by heart and am working my way through memorizing Wayne Knight's. I, like many others, am still pissed that Muldoon gets treated the way he does.
Jurassic Park was the first "big" movie (well, outside of Tim Burton's Batman) that I saw in theaters. I was too young for Return of the Jedi and Indiana Jones, and I remember being at summer camp, talking to my parents on the one phone in the whole place, outside the administration center, hearing my mom and dad describe how amazing it was. Those damn three weeks couldn't be over soon enough for me to get to the theater.
So it's a personal, nostalgic favorite.
Unless you've been living in a bathtub eating spaghetti for the last 20 years, you already know the plot: eccentric billionaire John Hammond (Richard Attenborough) has discovered a way to clone dinosaurs. There's an accident, and his investors are concerned about the safety of the park, so Hammond invites paleontologists Alan Grant (Sam Neill) and Ellie Satler (Laura Dern), as well as even-more eccentric chaotician Ian Malcolm (Jeff Goldblum) for a weekend stay. They discuss the philosophy of creating such a place, some kids show up, the dinos get loose and so does all hell.
Now it's been converted to 3D, and pretty damn well.
Continue Reading →