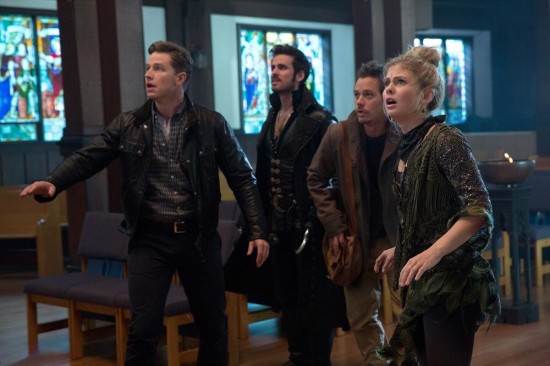 It has been a very long and exhausting(ly boring) half a season of Once Upon a Time, Oncers. But we made it! We braved the Neverland forest of perpetual setbacks and sides stories. We survived the onslaught of emotional baggage from everyone from the unusual suspects (Snow & Charming) to we-expect-better-from-you characters (Rumple).
We even managed to stay tuned in while a slew of new faces joined this entirely too large cast and enjoyed some (Ariel) while questioning the purpose of others (Tink). So now, Peter Pan's twisted tale comes to a close, Rumple finds his courage and Emma gets to change her mind about a life-altering decision. Time for us all to go home…
Felix and fake Pan drop random vials of magic from Regina's vault into Storybrooke's well. But as we all recall, in order for the curse to work you have to supply the heart of the thing you love most. For Pan it's not Rumple but Felix (a friendship/loyalty kind of love, just so we're clear). The Lost Boy isn't so sure about this plan and can't we talk about this…Nope. He heart is ripped out and crushed into the well.
This is all while Gold is explaining to the main cast that the new curse will follow Pan's evil machinations, just like the old curse did Regina's. The solution is twofold: First, switch Pan and Henry back to their bodies, which requires the Black Fairy's wand. Second, get the scroll back and Regina can cancel the new curse. A plan in place the team breaks their huddle while green smoke billows up from the well. Credits.
Continue Reading →