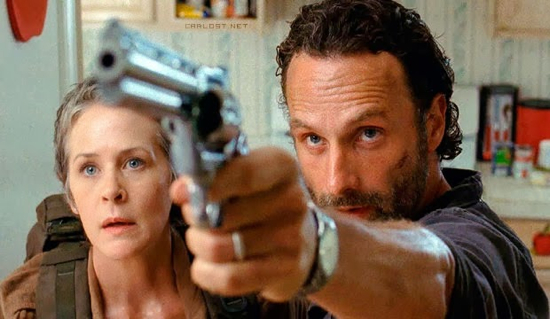 Carol will be going on a run with Rick for supplies. Lizzie tells Carol that she is glad people come back after they die, because at least they are something. Carol tells Lizzie to fight her fear, and not to be afraid to kill. Meanwhile Rick is either imagining how Carol killed Karen and David, or he actually saw her do it and said nothing. It was hard to tell what picture they were trying to paint.
Tyreese escaped the zombie horde unhurt, but he is clearly not ok. He is convinced everyone back at the prison is already dead, and is displaying some erratic and violent behavior. The gang finds a car covered in branches near a repair shop, and Tyreese's hasty actions almost gets them killed by walkers.
Michonne can't understand why Tyreese wouldn't let go of the walker that had a hold of him. She doesn't know if he's trying to get himself killed or what. She tells him that being angry makes you stupid, and being stupid gets you killed.
Daryl finds a battery in the shop, and is putting it into the car as Bob watches on. Bob explains that he was the only survivor of two previous groups, and that his need for booze is what caused the shelves to go down in the store when Zach was killed.
Continue Reading →