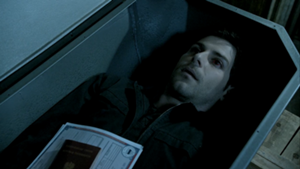 Eric wants Baron to show him how he "zombifies" his victims. Baron agrees, and Eric watches as one of his own men is attacked by Baron.
Nick visits Juliette, and he explains to her that he wanted to tell her about his life before she went into the coma, but he was afraid. He didn't want to push Juliette into his world. She tells him that she still loves him.
Frau Pech is mixing some kind of doppelganger potion. She conspires with a waiter to use the potion to poison Adalind. Once Adalind is unconscious, Pech takes some of her blood and adds it to a vial. Pech drinks it, and Pech turns into Adalind, while Adalind turns into Pech.
Stefania calls "Adalind" and tells her she has a way to kill Pech. "Adalind" rushes over to Stefania's, and Stefania tells her how she will trick Pech and lure her away. They need Pech's still beating heart in order to get Adalind her powers back. As Stefania is explaining to "Adalind" how they would kill Pech, Stefania's son comes up behind "Adalind" and chokes her out with a rope.
Continue Reading →