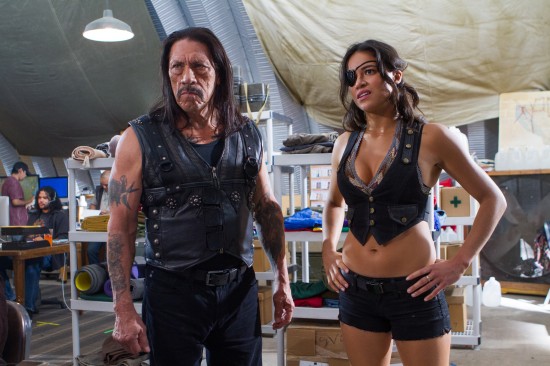 Machete Kills plays like a late Roger-Moore era Bond film — and not just because there's a lot of visual cues and ideas taken from Moonraker — the action and the humor are constantly fighting for dominance, and the humor, regardless of whether it's appropriate or not, makes sense within the context of the scene or not, hell, is funny or not, usually wins out. Though, to be fair, the plot of Machete Kills is a lot easier to follow than the plot of Octopussy.
Machete (Danny Trejo), in case you didn't see the first film…or the trailer on which it was based, is an ex-Federale-turned-spy-or-something-like-that-but-all-around-badass, seemingly indestructible and legendary throughout Mexico. His latest "case" has him busting up a gun-running ring, apparently sponsored by the U.S. Army, and distributed to the Mexican cartel. Gun fights, explosions, dramatic standoff music, and hell ensues. Machete is somehow the only survivor when the cops show up, and by the next scene we're in the local sheriff's office and Machete is swinging from the ceiling with a noose around his neck. And then the President calls.
And the President is…Charlie Sheen. Naturally. He needs Machete to hunt down and kill Mendez (Damian Bichir), a nutty terrorist with a vendetta against the cartel who's moved on to threatening the U.S. with a nuclear device. The catch is that once Machete finds him, Mendez reveals that the trigger for the bomb is tied to his heartbeat, so once he dies, boom. And he's also put a hit out on himself that everyone in Mexico is trying to cash in on.
Continue Reading →