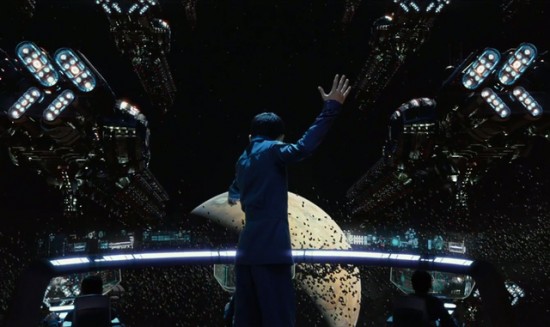 Before seeing the film, I had a study group session, and one of my buddies in our group mentioned that he had read several of the book's in Orson Scott Card's Ender's Game series. He said the theme was empathy, and, outside of that and the hubbub surrounding Card's controversial comments on same-sex marriage, was about the only thing I knew going into the film.
And now, having seen it, I can see bits of that theme peeking through, but ultimately director Gavin Hood (X-Men Origins: Wolverine) appears to have traded depth for spectacle.
In the semi-distant future, following an attack by an alien species known as the Formics, the countries of Earth have placed their best and brightest in the International Fleet academy, a military training ground that's preparing for the next potential invasion.  A. E. Wiggin (Asa Butterfield) a precocious youngster with a talent for strategy, is put through a series of tests administered by Colonel Graff (Harrison Ford), a tough commander who nonetheless sees Ender as the one to ultimately lead the fleet to victory. Overcoming loneliness and antagonism from his peers, Ender continually proves himself through a gauntlet of war games, all throughout questioning the true intentions of his leaders.
Entertainment wise, Ender's Game delivers. The various war games provide a fun parade of sequences for Hood to show how Ender outsmarts nigh-impossible odds (though, for all his apparent brilliance, Ender's solutions do seem to rack up the casualties), particularly with one scene involving a weightless battle sphere. The cadets compete against each other to make it through the other team's gate without getting shot by the opposing players' tag-guns.
Continue Reading →