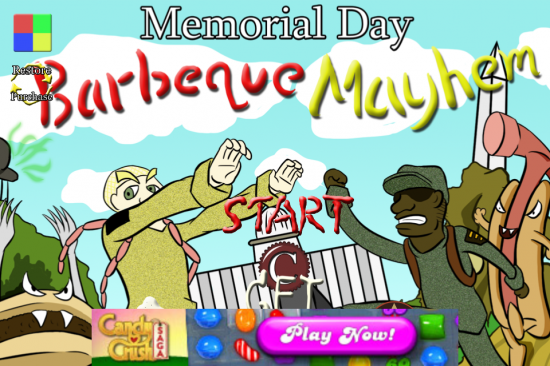 When I went to the Apple App Store last night looking for something for the Mondayy Freeview, I figured I would help put everyone in the Memorial Day spirit and looked for the first App to pop up to pop up with Memorial Day in the title that was free. The one I came across was Memorial Day Barbeque Mayhem and had a four star rating with fifteen reviews.
I figured even at only fifteen ratings, it couldn't be that bad if it still had four stars, right? Plus, who doesn't love a Memorial Day BBQ? Oh, how wrong I was.
Memorial Day Barbeque Mayhem is what I like to refer to as a "jumper" where a player has the screen moving for them as their character travels left to right at whatever pace the game wants. It isn't a full platformer because the X axis motion is completely out of the player's control.
Instead, they just control when and how high they jump. Unlike games like Robot Unicorn Attack 2 which features additional actions like charging, Memorial Day Barbeque Mayhem keeps itself limited to just jumping. Now as a mechanic, this can work except for the hordes of issues that plague the game.
Continue Reading →