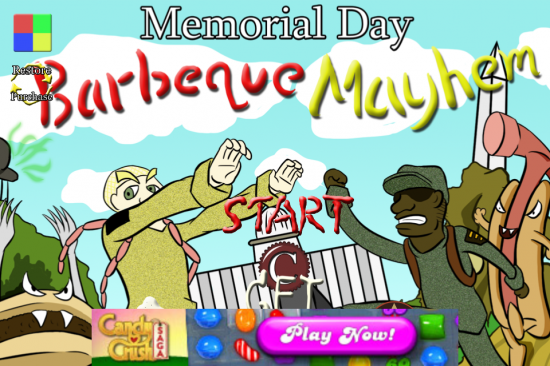 When I went to the Apple App Store last night looking for something for the Mondayy Freeview, I figured I would help put everyone in the Memorial Day spirit and looked for the first App to pop up to pop up with Memorial Day in the title that was free. The one I came across was Memorial Day Barbeque Mayhem and had a four star rating with fifteen reviews.
I figured even at only fifteen ratings, it couldn't be that bad if it still had four stars, right? Plus, who doesn't love a Memorial Day BBQ? Oh, how wrong I was.
Memorial Day Barbeque Mayhem is what I like to refer to as a "jumper" where a player has the screen moving for them as their character travels left to right at whatever pace the game wants. It isn't a full platformer because the X axis motion is completely out of the player's control.
Instead, they just control when and how high they jump. Unlike games like Robot Unicorn Attack 2 which features additional actions like charging, Memorial Day Barbeque Mayhem keeps itself limited to just jumping. Now as a mechanic, this can work except for the hordes of issues that plague the game.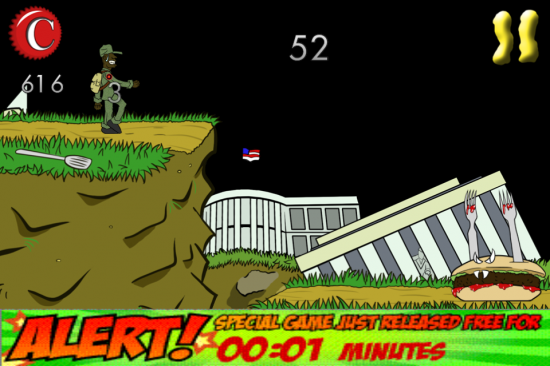 The first is that the game is created as an obvious upgrade portal. There is a constant barrage of click to purchase or click to get new game icons on the screen as you'll see in the screens. In just the short time I was able to bring myself to play the game, I probably accidentally clicked to purchasing screens about five times before directing myself away. And it isn't just menu or loading screens, the actual ad comes up on the gameplay screen and actually blocks the visibility of the course. In a game where sometimes you're trying to jump at the last second to get over the game's baddies, not being able to see the ground can be a serious detriment.
The actual gameplay, aside from the aforementioned advertising issues, is pretty weak as well. The random level layouts will often just put players into a scenario where they can't win and either miss the edge of a platform or are forced to land on top of an enemy, killing them and restarting the whole painful process.
There are little coin icons to collect but all they allow for is the ability to purchase a new character skin. Given the time it would take to unlock the new skins, it feels like this would be quite an arduous process.
Normally the Monday Freeview is meant to showcase free pieces of entertainment to try out. This time it actually acts as a warning. Don't waste your time on Memorial Day Barbeque Mayhem, even if it is Memorial Day. Go to an actual BBQ. It has also taught me a lesson. No more following silly themes or holiday motifs. If I am going to do the Monday Freeview, I am going to find the best free stuff out there and be damned what the calendar says (as long as it says Monday, that part I do need to stick to).