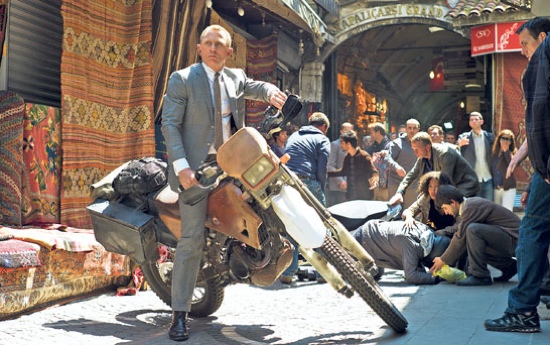 The James Bond franchise celebrates its 50th anniversary in spectacular style with Skyfall, the 23rd film in the series and Daniel Craig's third outing as 007. Skyfall takes every hallmark of the series and pushes them farther than ever. It's all there—exotic locations, incredible action sequences, a fascinating arch villain, gorgeous women, the best new Bond song (by Adele) since Shirley Bassey's "Diamonds Are Forever," some interesting personnel surprises (my advice: don't read the spoiler reviews!), and of course, the car.
The locations (Turkey, Shanghai, Macau) are especially stunning, thanks to director Sam Mendes' (and the Coen Brothers') go-to man, Roger Deakins, whose painterly, watchful cinematography continually captures moments of beauty and stillness in the midst of danger and frenetic action. As for the villain, you can easily learn the actor who plays him, but as I think in this case it's much better to be surprised, I will only say that he is as terrifying and charismatic and sad as Hannibal Lecter.
Naomie Harris gives almost as good as she gets as Bond's field associate. And Bérénice Lim Marlohe's Sévérine is as gorgeous and tragic as a Bond woman has been, with a sadly all-too-relevant real-world backstory.
Continue Reading →