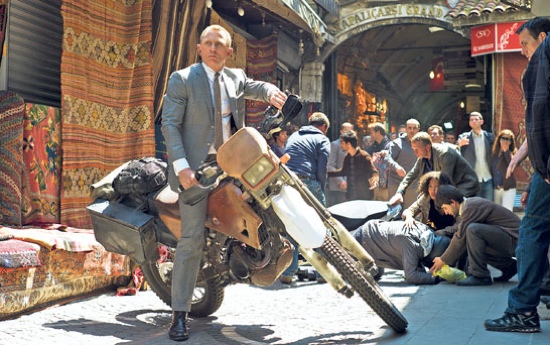 The James Bond franchise celebrates its 50th anniversary in spectacular style with Skyfall, the 23rd film in the series and Daniel Craig's third outing as 007. Skyfall takes every hallmark of the series and pushes them farther than ever. It's all there—exotic locations, incredible action sequences, a fascinating arch villain, gorgeous women, the best new Bond song (by Adele) since Shirley Bassey's "Diamonds Are Forever," some interesting personnel surprises (my advice: don't read the spoiler reviews!), and of course, the car.
The locations (Turkey, Shanghai, Macau) are especially stunning, thanks to director Sam Mendes' (and the Coen Brothers') go-to man, Roger Deakins, whose painterly, watchful cinematography continually captures moments of beauty and stillness in the midst of danger and frenetic action. As for the villain, you can easily learn the actor who plays him, but as I think in this case it's much better to be surprised, I will only say that he is as terrifying and charismatic and sad as Hannibal Lecter.
Naomie Harris gives almost as good as she gets as Bond's field associate. And Bérénice Lim Marlohe's Sévérine is as gorgeous and tragic as a Bond woman has been, with a sadly all-too-relevant real-world backstory.
The plot? Has the actual plot ever really mattered in a Bond film? In Skyfall the enemies of Right and The Empire—appropriate to current geopolitics, they are all-powerful but vague in identity—have obtained a list of all MI6 operatives around the world. What's more, they then strike all too close to home, with a massive attack on MI6 HQ in the heart of London. Very soon it's clear their primary target is Judy Dench's M, and a game of cat-and-mouse proceeds, in which M is attacked not only by the enemy but by her own.
For it's also clear that Bond—and perhaps, the series—is suffering a midlife crisis of sorts upon turning 50. Both Craig and the film play out with a grim, even dour, meditative determination in the midst of voices, friendly and not, that question the aging Bond's fitness to spy in the new age of terrorists and computer espionage. Over the hill, out to pasture, past your prime—these accusations are also posed to M, who is urged by her superiors (led primarily by a very fine Ralph Fiennes) to retire and leave the game to the younger and fresher.
This theme is hammered upon no few times, so often it crosses from theme to joke to obsession. When an injured Bond returns to the fold after a baleful hiatus, he must be retested for field readiness, and fails every test. When he meets the new Q, an embryonic Ben Whishaw, it's at the National Gallery, in front of J.M.W. Turner's "The Fighting Téméraire Tugged to Her Last Berth to Be Broken Up," which depicts the once-noble warship being ingloriously towed to the scrap yard.
And when Bond and M run out of options in London and must face the villain, alone, the last stand to which he returns them for the movie's grand finale is his first stand, the forbidding, inhospitable stone pile in the stark Scotish landscape that is his birthplace. This final act reminded me of Batman Begins, a deep, dark Ur-story that sheds heretofore unseen insight on Bond's innermost being. The problem is, do I truly want to know about the ultimate international secret spy's Freudian baggage? I think, in the end, No. Thankfully, though there tiny glimpses into James Bond's seminal childhood trauma, an uncle figure from his childhood (a welcome Albert Finney), and a perfectly eerie gravestone, the unsentimental Bond doesn't dwell, and neither does the movie. He is, however, reduced in this last, overcast Scottish act, to grunting silence—and, at last, unbelievably, to tears. It's far from the suave Bond of the baccarat tables of Monte Carlo.
Critics will be divided about the forays into Bond's parent issues. I am myself. But I do like this darker, saturnine vision of Bond. And if I didn't totally buy the ending note of optimism and renewal, I wanted to. As it is, I left Skyfall thoroughly satisfied. Like Bond, older, sadder and wiser.