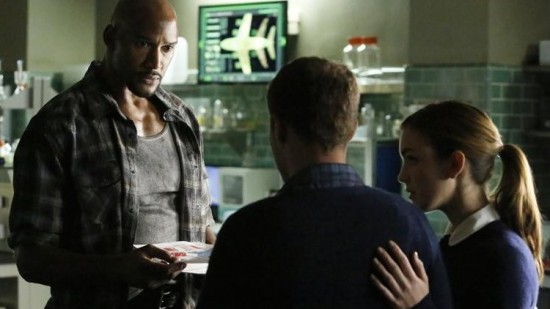 Agent May arrives at the crash scene and attempts to help Hunter. He tells her to go after Creel, who has the 084. May takes off after him, and military police arrive and take Hunter into custody.
Coulson reveals that he stole the jet so his team could try and reverse engineer the cloaking technology, as Fitz does not have the brain capability to finish the project now. He also tells Skye that Hunter has been captured, and he fears Hunter may start talking.
The soldiers drop off Hunter in a random field, and he is picked up by General Talbot. Talbot wants Hunter to bring Coulson to him, and Hunter can name his own price. Hunter wants two million dollars and a proper burial for Hartley.
Mack tries to get Fitz to help him with the cloaking device, but Fitz say he can't. Fitz is growing increasingly agitated and frustrated with himself. "Simmons" convinces Fitz to take some research files on Creel to try and come up with some tech to destabilize Creel's powers.
Meanwhile, May has trailed Creel to a diner where he is presumably waiting to meet his HYDRA contact. While waiting, Creel accidentally touches the waitress, who turns to stone.
Hunter come back to S.H.I.E.L.D. and Trip is waiting for him. Hunter openly admits to Coulson that he made a deal with Talbot and has 48 hours to deliver Coulson. Hunter, however, believes that S.H.I.E.L.D. has a better shot of finding and capturing Creel.
Continue Reading →