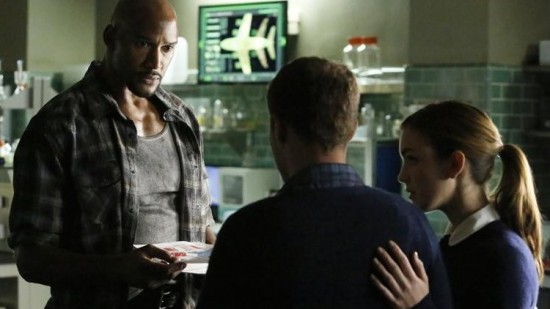 Agent May arrives at the crash scene and attempts to help Hunter. He tells her to go after Creel, who has the 084. May takes off after him, and military police arrive and take Hunter into custody.
Coulson reveals that he stole the jet so his team could try and reverse engineer the cloaking technology, as Fitz does not have the brain capability to finish the project now. He also tells Skye that Hunter has been captured, and he fears Hunter may start talking.
The soldiers drop off Hunter in a random field, and he is picked up by General Talbot. Talbot wants Hunter to bring Coulson to him, and Hunter can name his own price. Hunter wants two million dollars and a proper burial for Hartley.
Mack tries to get Fitz to help him with the cloaking device, but Fitz say he can't. Fitz is growing increasingly agitated and frustrated with himself. "Simmons" convinces Fitz to take some research files on Creel to try and come up with some tech to destabilize Creel's powers.
Meanwhile, May has trailed Creel to a diner where he is presumably waiting to meet his HYDRA contact. While waiting, Creel accidentally touches the waitress, who turns to stone.
Hunter come back to S.H.I.E.L.D. and Trip is waiting for him. Hunter openly admits to Coulson that he made a deal with Talbot and has 48 hours to deliver Coulson. Hunter, however, believes that S.H.I.E.L.D. has a better shot of finding and capturing Creel.
Mack is concerned about Fitz, and "Simmons" convinces Fitz to tell Mack about his plan to try and destabilize Creel. Fitz tells Mack that he didn't solve this "today". Mack figures out that Fitz means he came up with the design before he lost his memory. Mack is able to find the design on an iPad.
Creel was damaged by the 084, and has a spot on his arm that he cannot heal or change to a new material. He tells this to his HYDRA contact, who promises Creel that he will be fixed once they make the drop.
Reina surprises Creel, and offers him some carbide (rare carbon found in stardust, and is 3 times harder than a diamond) in exchange for the 084. Creel rejects her offer and takes the carbide anyway. Reina has slipped a tracker onto Creel, and passes the information along to Coulson. Reina is no longer working for HYDRA, or so she says.
Creel is meeting with his contact, and S.H.I.E.L.D. has eyes on them. Hunter, much like his rough nature would have suggested, turns on May, Skye, and Tripp and goes after Creel himself. Creel, now made out of carbide, easily takes control over Hunter. Hunter is about to be destroyed when Coulson runs in and neutralizes Creel with Fitz' invention. In all of the confusion, Reina escapes with the 084
After everything that happened, Coulson still wants Hunter to return to S.H.I.E.L.D. The ranks are thin, and Coulson needs all the help he can get. Coulson can't totally trust him, but Hunter has pissed off May, so Coulson figures she'll keep him in check.
Coulson meet with General Talbot, trying once again to strike up a working agreement. S.H.I.E.L.D. will supply the military with all the bad guys, and Talbot will keep rising the ranks. Talbot declines, and Coulson shows off the two cloaked jets that they have in their possession.
Skye confides in May that she thinks something is wrong with Coulson. May, of course, tells Skye that Coulson is fine. May then talks to Coulson about how it's been 18 days since his last episode. Coulson can't hold it in, and starts drawing symbols or code of some sort on the wall. Most likely the symbols he was trying to get Skye to decipher. They looked like they could be vaguely alien.
Reina has the 084 and is talking with a mystery man. He tells her to pick up the 084. Reina does, and some lights go off, but it does not hurt her. She thinks it worked, but the man just tells her that it let her live. Reina wants to see him use it, but he says he only will if she brings him his daughter. So it looks like we're beginning the "who are Skye's parents" arc finally.