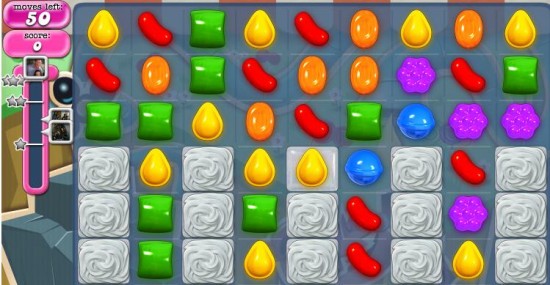 So I did it. I finally gave in. After months of avoiding Facebook invites from friends, family and total strangers, it was only after the recommendation of our own Matt Raub when he talked about how addictive it was that I decided to give Candy Crush Saga a chance. And now I see what the hype is about.
On the surface, one could attempt to say that Candy Crush Saga is a ripoff of the classic "Match 3" formula that made titles like Bejeweled so successful. But it takes bits and pieces from various other "Match 3" games into an incredibly simple but addictive formula. Early levels involve hitting a certain amount of points within a specific number of moves.
Quickly the gears get clogged up when levels change shape and it isn't just the perfect square that they are used to. And then comes the jelly which players must not only hit a minimum score on but also make matches over specific squares to clear them. And once you think you've mastered that, then you have "ingredients" which are pieces that you must work down to the bottom of the screen by eliminating the blocks below them.
Continue Reading →