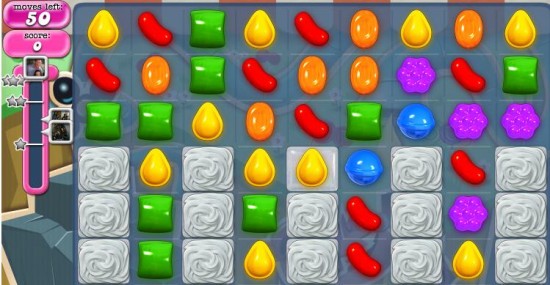 So I did it. I finally gave in. After months of avoiding Facebook invites from friends, family and total strangers, it was only after the recommendation of our own Matt Raub when he talked about how addictive it was that I decided to give Candy Crush Saga a chance. And now I see what the hype is about.
On the surface, one could attempt to say that Candy Crush Saga is a ripoff of the classic "Match 3" formula that made titles like Bejeweled so successful. But it takes bits and pieces from various other "Match 3" games into an incredibly simple but addictive formula. Early levels involve hitting a certain amount of points within a specific number of moves.
Quickly the gears get clogged up when levels change shape and it isn't just the perfect square that they are used to. And then comes the jelly which players must not only hit a minimum score on but also make matches over specific squares to clear them. And once you think you've mastered that, then you have "ingredients" which are pieces that you must work down to the bottom of the screen by eliminating the blocks below them.
But here is where Candy Crush Saga is different. They took the social aspect of games like Farmville and integrated it into CCS. In Bejeweled, if you lose a level then you can just hop right back in. In Candy Crush Saga, you're given a finite number of lives that will run out as you fail. You can either wait for more to come to you, pay for more, or ask your friends for them.
For those of you who just click ignore for all those app invites, that's what has been sent to you in droves by your great aunt who somehow managed to find you on Facebook. (And just to be clear, she isn't your friend on there because she wants to keep up with what you're doing. She's on there because her iPad told her she'd get bonuses in Candy Crush Saga by having a Facebook account.) Or to advance past a certain level, players must receive tickets from their friends in order to progress, or pay for them.
This combines with the bread crumb methodology that has made multiplayer games like World of Warcraft and Call of Duty: Modern Warfare so successful. When playing, there are constantly little rewards that may turn the tide of a future play session like unlockable level bonuses that pop up to get the player to think, "Just one more game."
As a result I say that Candy Crush Saga is one of the best multiplatform free games out right now with the caveat that it is sometimes too addicting. Following the completion of this article, I am going to delete it from my iPad or I will never get to the new Call of Duty: Black Ops II DLC this week or Injustice: Gods Among Us (which also has a free demo out this week, see what I did there?). But if you need something casual that will occasionally make you want to rip out your hair because your mother has beaten a level but you have not, give it a shot!