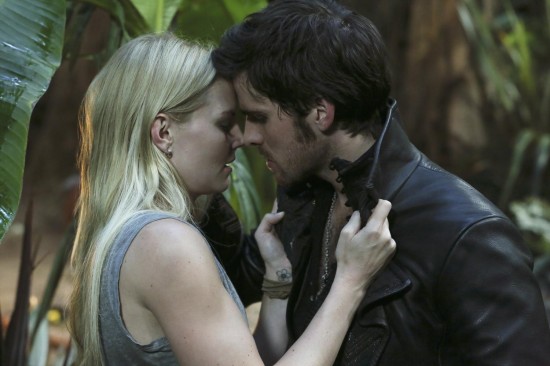 So Oncers it's time for our weekly journey in Neverland. But this time we get a little spice in our bland Once soup with the story of Killain Jones, a good sailor gone pirate. Just like everyone, his heart was broken with grief and guilt so he went to the Dark (and roguishly handsome) Side. But a certain Savior might be melting his cold, buccaneer heart after all, as evidence by that hot and way over publicized kiss. Oh also, Henry is still with the Lost Boys and Neal is, well…
Neal is in an even worse state than when we ended last week. He gets chucked into a wooden cage by the Lost Boys and is promptly forgotten for the rest of the episode.
Back in Camp Pan, a boy literally pokes Henry with a stick to make him fight back with a conveniently available wooden sword. Pan steps in to prompt Henry to believe he's holding a real sword and TA-DA! It works! Then Henry gets carried away and cuts the Lost Boy's cheek but don't worry. The best thing about being a Lost Boy is you never have to apologize.
As Henry enjoys applause for his use of violence, his family is still in Neal's cave looking for the key to his secret star map. Emma sees that Neal stopped counting his days on the island not because he left but because he lost hope. Even Hook gravelly-voiced reassurances don't quell her concerns for Henry. She says it's time they "take a page from Pan and start being clever." Why wasn't this Plan A?
Continue Reading →