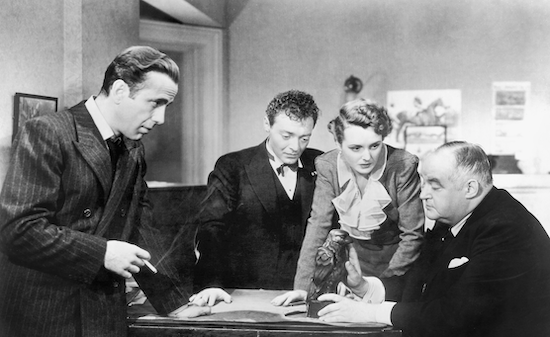 As we've done with Western Wednesdays Again, this series of articles discusses the films of one of the greatest directors of all time: John Huston. Originally titled John Huston Thursdays, we've changed it up just a bit.
Instead, we're calling it Revisiting John Huston. And to kick things off we're starting with a major classic: The Maltese Falcon. Fortunately, it's still the same great content written by the same talented writer, Nat Almirall. So, please enjoy the first installment of Revisiting John Huston.
– Chris
This marks the first in a series of articles looking at the films of John Huston. He is one of the most celebrated filmmakers of the 20th Century and a fascinating man.
It seems sensible to start at the beginning, and an impressive beginning at that, with his first film, 1941's The Maltese Falcon. So much has been written about this film, so I'll confine myself to some observations on my most recent rewatching and a few points I haven't yet seen anyone else touch on.
Perhaps most surprising is that this was Huston's directorial debut. Prior to Falcon he'd written screenplays, among them High Sierra, the film widely regarded as Bogart's first big picture.
Knowing that, it's surprising how established the film is, in that it doesn't look like a director's first film. Bogie's Sam Spade is well crafted and believable, but it's when the camera pans down to the silhouette of "Spade and Archer" that you know this is no amateur.
There are more than a few transitions like this—the spinning tire of the police car also comes to mind—but it never feels overdone. Many first-time directors would be too eager to show off, often to the detriment of the film, but while Falcon certainly has its share of complicated shots, they're all made to serve the scene rather than the filmmaker.
So many mysteries inhabit the film, and they all come from the characters. Each one harbors a sordid past that's only suggested. For all the questions surrounding it, we know much more about the flacon itself than we do the people surrounding it.
Continue Reading →